Skylanders: Swap Force
Skylanders: Swap Force
The third in the Skylanders series, follow up to 2012's Skylanders: Giants.
Platform
Developer
Release Date


Nov 15th 2013
Nov 12th 2013
Oct 18th 2013
Oct 13th 2013








Story
The story and background for the new types of toys is as detailed below:
In Skylanders: Swap Force, Portal Masters embark on an all-new adventure in the mysterious Cloudbreak Islands, home to a mystical volcano that erupts every hundred years to replenish the magic in Skylands. During an epic battle, a brave group of Skylanders were caught in the volcano's eruption, which blasted them apart and sent them to Earth. But, the magic of the volcano gave these heroes a remarkable new power -- the ability to swap halves -- turning them into a special team known as the Swap Force.

Meanwhile, Kaos is back with a new evil plan. And now, Portal Masters everywhere must reassemble the Swap Force -- in their original form or in new combinations -- and send them back to Cloudbreak to save Skylands!
Characters
As well as being able to use all of the Skylanders from the original two games, Skylanders: Swap Force introduces 32 brand new characters to play as. This new lineup is made up of 16 Swap Force Skylanders which break apart into two pieces that can be mixed-and-matched between them all and 16 new regular "core" Skylanders that won't have the swapping feature.
Tech

Magna Charge
Spy Rise
Countdown
Wind-Up
Heavy Duty Sprocket
Big Bang Trigger Happy
Lightcore Countdown
Nitro Magna Charge
Kickoff Countdown
Springtime Trigger Happy

Water

Wash Buckler
Freeze Blade
Riptide
Punk Shock
Blizzard Chill
Anchors Away Gill Grunt
Lightcore Wham-Shell
Dark Wash Buckler
Nitro Freeze Blade

Fire

Blast Zone
Fire Kraken
Fryno
Smolderdash
Fire Bone Hot Dog
Lava Barf Eruptor
Lightcore Smolderdash
Volcanic Eruptor
Dark Blast Zone
Jade Fire Kraken

Undead

Night Shift
Rattle Shake
Roller Brawl
Grim Creeper
Phantom Cynder
Twin Blade Chop Chop
Lightcore Grim Creeper
Legendary Night Shift
Legendary Lightcore Grim Creeper
Quickdraw Rattle Shake

Life

Stink Bomb
Grilla Drilla
Bumble Blast
Zoo Lou
Thorn Horn Camo
Ninja Stealth Elf
Lightcore Bumble Blast
Dark Ninja Stealth Elf
Legendary Zoo Lou
Jolly Bumble Blast

Magic

Hoot Loop
Trap Shadow
Star Strike
Dune Bug
Super Gulp Pop Fizz
Mega Ram Spyro
Lightcore Star Strike
Dark Mega Ram Spyro
Enchanted Hoot Loop
Enchanted Lightcore Star Strike

Air

Free Ranger
Boom Jet
Pop Thorn
Scratch
Turbo Jet-Vac
Horn Blast Whirlwind
Lightcore Warnado
Legendary Free Ranger

Earth

Rubble Rouser
Doom Stone
Slobber Tooth
Scorp
Hyper Beam Prism Break
Knockout Terrafin
Lightcore Flashwing
Dark Slobber Tooth
That includes new poses for 16 old characters from the first two games and eight Lightcore versions of new and old, bringing the total number of new playable toys to 75. That's a grand total of 174 toys if you include the 99 from Spyro's Adventure and Giants.
In the brand new Starter Pack you will get three Skylanders, that's two Swap Force and one Series 3 returning Skylander. It'll be Wash Buckler, Blast Zone and Ninja Stealth Elf for the consoles and Free Ranger, Rattle Shake and Volcanic Eruptor for the 3DS. There is no Portal Owner's Pack this time due to the need to use the new portal.
To help differentiate between the old and new sets, the base of the Skylanders for Skylanders: Swap Force will be blue instead of the green/orange currently seen on the Spyro's Adventure and Giants toys.
Adventure Packs and Battle Packs
There will be two new Adventure Packs and two new Battle Packs as part of Swap Force. The Adventure Packs are called Tower of Time and Sheep Wreck Island. The Battle Packs are called Fiery Forge and Arkeyan Crossbow.
Tower of Time includes new Skylander "Pop Thorn" as well as the Tower itself and two Magic Items "Battle Hammer" and "Sky Diamond".
Fiery Forge includes new Skylander "Bumble Blast", reposed Series 3 "Knockout Terrafin" and the battle item "Fiery Forge".
Triple Packs
Again there will be triple packs with three characters in them.
A: Slobber Tooth, Lava Barf Eruptor, Super Gulp Pop Fizz
B: Zoo Lou, Mega Ram Spyro, Blizzard Chill
C: Star Strike, Anchors Away Gill Grunt, Big Bang Trigger Happy
D: Scorp, Twin Blade Chop Chop, Heavy Duty Sprocket
Magic: Mega Ram Spyro, Super Gulp Pop Fizz, Star Strike (Walmart exclusive)
Swap Force Abilities
The new Swappable characters can do more than just swap, each of them has a movement ability associated with their lower half, this ability can unlock the special Swap Zones that you'll find in each level.








These abilities are exclusive to the swappable Swap Force characters and have not been retroactively given to existing characters. Just like there are two new characters for each element there are two characters for each ability (you can still manage to get one of each element and have one of each movement type if you choose them carefully).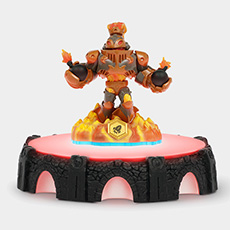 Portal of Power
The game uses a brand new Portal of Power, redesigned to be able to recognise the ever changing forms of the Swap Force toys. It is unknown whether the new portal will work with Spyro's Adventure and Giants so don't go throwing the old portal out just yet.
To help with the swapping in the 3DS game you will be able to load in all of your figures rather than be stuck with the limit of just two figures that you had in the last two games.
Platforms
The game will appear on Xbox 360, Xbox One, PlayStation 3, PlayStation 4, Wii, Wii U, and 3DS as well as on mobile devices and the web.
---
Comments
All off-topic comments will be deleted. Please do not use the comments system for conversations, instead use the provided forums for the game.
Please login or register a forum account to post a comment.