News and Updates
8:00 PM - Friday the 27th of October, 2006 - by dark52
Today marks the day that
The Legend of Spyro: A New Beginning
officially goes on sale in Europe, though it was actually released slightly earlier in the week.
And for those of you wondering when I'd write a walkthrough for the game, wonder no more. Well, keep wondering for the most part but don't wonder about the GBA version no more. That's right, you can now get through the Gameboy Advance version without any trouble by using my
walkthrough
which covers the entire game.
Have fun.
9:46 PM - Tuesday the 10th of October, 2006 - by dark52
The official Spyro website,
SpyrotheDragon.com
has finally been updated to promote the new game,
The Legend of Spyro: A New Beginning
. You can find a few new screenshots, info on some of the new characters, info and videos about some of Spyro's attacks and a new TV Commercial (as well as the video previously seen on Krome Studio's website).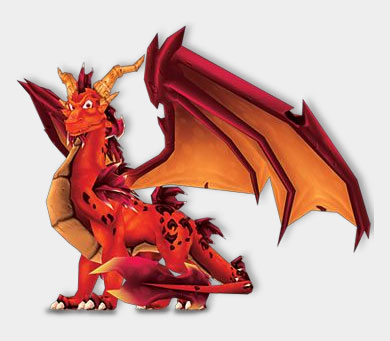 There's also a video for the Mobile version of the game as well as some new screens for it, if you're interested in that.
It's just about as close to the release date as you can get,
The Legend of Spyro: A New Beginning
should be available in North America now if not tomorrow.
8:24 PM - Sunday the 8th of October, 2006 - by dark52
The second review from another magazine. This time it's the turn of Nintendo Power who have given the GameCube version of
The Legend of Spyro: A New Beginning
the rather average score of 5.5/10, seemingly not quite as positive as the previous review from Play Magazine.
Quote: Nintendo Power
Unfortunately the end product fails to return the purple hero to his former glory. The game's overly-simplistic combat quikcly grows repetitive - a problem exacerabted by levels that tend to drag on and on without enough variety to keep things interesting (the flying stages are nicely done, but they're too few and far between). And although Spyro has an auspicious arsenal of elemental breaths at his disposal, the game doesn't do enough to take advantage of them.
It's not all doom and gloom though, they did have a few positive things to say...
Quote: Nintendo Power
On the bright side, A New Beginning does boast some impressive production values, particularly in the audio department. The soundtrack is a sweeping orchestal score that wouldn't sound out of place in a Hollywood epic, and most of the voice acting is top notch - Elijah Wood puts in an especially praiseworthy performance as Spyro.
Thanks go to Neal for this
scan
of the review.
10:49 PM - Sunday the 24th of September, 2006 - by dark52
Play Magazine has given the first review of
The Legend of Spyro: A New Beginning
and it's a positive one, awarding it a score of 8.5/10.
Quote: Play Magazine
Graphically the game is as gorgeous as it can be and rich with fine details like little pads of earth that fly up from Spyro's claws, shallow mist, hand-drawn effects on water, sparking snow, reflective surfaces, and real-time lighting you'll want to write home to mom about.
Thanks to GnastyRatchet you can see scans of both
Page 1
and
Page 2
of the review which includes a couple of screenshots and a large picture of Ignitus.
11:49 AM - Sunday the 17th of September, 2006 - by dark52
It's been a strangely silent front with screenshots for the GameboyAdvance version of the game, you'd almost think that it didn't even exist. However the first five screenshots of the
side-scrolling
GBA version of
The Legend of Spyro: A New Beginning
have appeared on the Australian website of
Nintendo
.
Also worthy of note are the first screens of the Mobile version of the game which you can find at the Italian mobile games website
WirelessGaming.it
.
Thanks go to Spyro-Fan and Michael respectively for finding these.
4:22 PM - Monday the 11th of September, 2006 - by dark52
5:33 PM - Wednesday the 30th of August, 2006 - by dark52
Krome Studios
have redesigned their website and along with it they have five new
screenshots
and a
brand new trailer (apparently shown at E3)
(which has since been removed) for
The Legend of Spyro: A New Beginning
which shows Ignitus, Spyro, Sparx and what might be Cynder along with a lot of new footage of Spyro fighting things.
Quote: Krome Studios
The Legend Of Spyro: A New Begining takes the world famous Spyro The Dragon back to the beginning, in his first ever adventure! Find out what makes him such a special creature as he masters powerful elemental breath attacks, battles enemies with devestating melee combat moves and levels up his abilities to become the most powerful dragon the world has ever seen! Forget everything you thought you knew about Spyro, this really is A New Beginning.
They've also got some stuff for their other new game, Hellboy, if you're interested in that.
Also removed for some reason.
Thanks go to fearthehorns for spotting it.
5:34 PM - Tuesday the 22nd of August, 2006 - by dark52
IGN
have posted a couple of previews for the
console
and
DS
versions of
The Legend of Spyro: A New Beginning
.
Quote: IGN
The long range ice attack, for instance, will blast out frozen shards that ricochet around the room. Earth attacks can unleash tornadoes, and some of the fire attacks can set enemies on fire. Should the foes engulfed in flame bump into their kin, they'll set the unlucky gent aflame as well.
They also have several
new
screenshots
for both versions along with four new
videos
of the game. Also with screenshots are Amazon who have a few more DS
screens
.
Thanks go yet again to GnastyRatchet for finding the new console screens on IGN and for pointing out the videos.
8:04 PM - Tuesday the 15th of August, 2006 - by dark52
In celebration of one of the most pointless things to know about the site, for the 800th day of darkSpyro I have updated the forums and the site in general.
The news section of the site has had a slight revamp, with 'categories' for finding news posts about each game (all colour coded of course) and a very slightly altered comments system which makes use of some of the forum changes. You might also notice a load of URL changes elsewhere on the site but they're not really that important to users.
The
forum
itself has got what it's had before, lost, then had again before being snatched away quickly. Yep, avatars. Amazing huh? Several fixes are also included including a change from html code to the equally similar BBCode which itself includes a quoting feature. And registered users can now also see exactly what they have previously rated all of the games from within their profile.
Oh, and
here's
another preview of
The Legend of Spyro: A New Beginning
from
Computer and Videogames
with some new screens. Thanks go to GnastyRatchet for finding it, of course.
6:07 PM - Monday the 14th of August, 2006 - by dark52
The
The Legend of Spyro: A New Beginning
's boxart has now appeared on several video-game shop websites such as
GameStop
and
GAME
(it was previously seen wonky
here
) replacing the crudely constructed placeholders. It features the same picture as the poster at Comic-Con and the game is rated as E10+ and 3+ in Europe.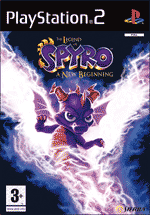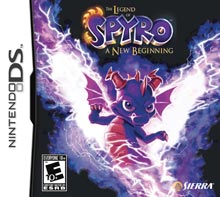 News Calendar
Latest Page Updates