Category: Gateway to Glimmer
10:17 PM - Wednesday the 11th of July, 2018 - by dark52
PlayStation Underground today posted a lengthy look at the Spyro 2 level Idol Springs, marking our first real look at the second game in the
Spyro Reignited Trilogy
.
They're joined by Peter Kavic, Nick Livingston, and Josh Nadelberg from Toys for Bob so there's plenty to hear too.
11:09 AM - Thursday the 5th of April, 2018 - by dark52
After a long wait the remake of the original trilogy that we all knew was coming has been revealed as the Spyro Reignited Trilogy. Thanks to
Amazon Mexico
we now know that the game is coming to the PlayStation 4 on September 21st and will indeed be a remaster of Spyro the Dragon, Spyro 2: Ripto's Rage!, and Spyro: Year of the Dragon.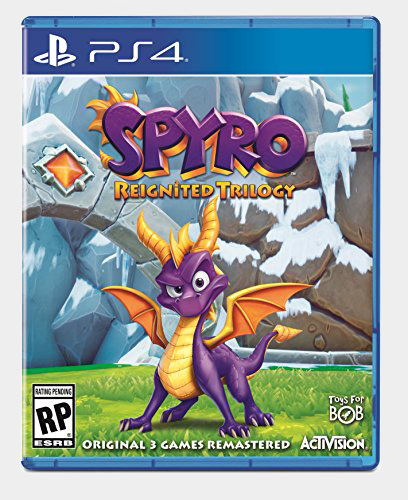 Keep in mind that the Crash Bandicoot N-Sane Trilogy had a placeholder boxart when it was announced so this is likely not the finalised boxart.
Amazon India
also has an Xbox One version listed with the same release date along with a bunch of screenshots from the first game in the trilogy, including this direct comparison:
While we wait for the actual official announcement you can check out more of the images in the
gallery
or get talking about the game in the
forums
.
3:56 PM - Wednesday the 12th of December, 2012 - by dark52
It's finally happened, the European PSN Store has added the original three Spyro games. Sold for £3.99 (€4.99) each or as a collection for £7.99 (€9.99).



As the US flag indicates they're technically the NTSC versions of the games so they won't have any of the additional languages and Gateway to Glimmer is actually called Ripto's Rage in-game.
9:34 AM - Friday the 8th of May, 2009 - by dark52
Spyro 2: Ripto's Rage!
has finally been added to the North American PlayStation Store.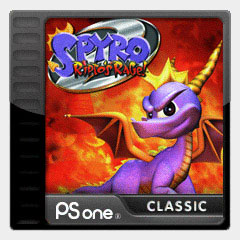 Quote: PSN
Things are heating up! Spyro, the feisty, fire-breathing dragon is back and he's ready to take on a whole new adventure in this sequel to the original Spyro! You must save the worlds of Avalar by defeating the dinosaur-riding Ripto and his evil minions.
Hopefully it won't suffer the same issues as the European release of Spyro 2: Gateway to Glimmer.
Thanks to crashpro for the heads up.
11:16 PM - Saturday the 25th of November, 2006 - by dark52
The game,
The Legend of Spyro: A New Beginning
, has been out for over a month now and I've completed work on my
walkthrough
for it. Also added to the
The Legend of Spyro: A New Beginning
section are a
cheats
page (with
one cheat
two cheats) and a page where you can randomly generate
Enemy Names
.
Players of the Nintendo DS version of the game might like to know that I have also posted solutions to all eighty of the
Power Crystal Puzzles
, though that was added a little while ago.
And for those of you who don't have the game but are still deciding whether or not to, I've collected a load of
reviews
together onto one page with links to the full articles if available so that you can judge based on other people's opinions of the game.
In other Spyro content news, I have
finally
finished adding all of the characters from
Spyro 2: Gateway to Glimmer
to the
Character Guide
.
7:00 AM - Saturday the 17th of July, 2004 - by dark52
With Glimmer completed, I've started on the Year of the Dragon guide. While there's nothing on the site just yet I thought I might as well tell you. The pages that are under the Year of the Dragon section are all empty at the moment so don't bother visiting them.

I have also added a Records page for Glimmer as well as removing the Character Guide that I had on the site. This is to make it a lot better and more useful then it is so to stop you getting confused by the sheer awfulness of its current state, I've taken it down. I will get it back on the site soon though, so don't be too upset.
7:00 AM - Friday the 16th of July, 2004 - by dark52
I've finally finished off the entire guide. With the whole of Winter Tundra now written up it is done. I have also added content to the Skill Points page, as well as to the Cheats and Codes page. With Glimmer out of the way, I will soon be able to start my guide on Spyro: Year of the Dragon. The first bit of that guide should be here within a few days, or at the most a week.

And after completion of the Year of the Dragon guide? Well the two GBA games that I have yet to do obviously. The only problem there is that I have yet to play either of them so I don't really know how long it'll take to write the guides for them.
7:00 AM - Wednesday the 14th of July, 2004 - by dark52
Well around that anyway. With all of Summer Forest and Autumn Plains completed (except for the return parts of Autumn Plains) I only have Winter Tundra left to do. There are still 8 levels still to write about so with 21 levels already done, it should be completed very soon people! Maybe even by tomorrow. Not promises though, you'll just have to wait and see how far I get.

Well, however much I manage to do by tomorrow, you are almost certain of an update of some kind. Oh, and just so you know, seeing as this method of making the guide is working better than the method I used for the Spyro the Dragon guide, I'll be using it again for Year of the Dragon when I get round to it.
7:00 AM - Wednesday the 14th of July, 2004 - by dark52
Uh huh, 28% of it done so far (based on Orb count only) so it'll be a short while before it's fully completed. I am aiming for a completion of the guide by Sunday though, so it should arrive thick and fast over the next few days. Now with Summer Forest completed, there are only two worlds left to go.

I have updated the sidebar as well to include all the links that will be needed for this guide, however as you might expect, all but the introduction and Summer Forest links lead to a blank page with a sigh of 'Coming soon...' on them. This is again to prevent people from thinking that it's a bad link like the ones at the top were (I have now fixed the links that weren't working up at the top) while it's just that I haven't made the page yet. And I have also updated the Downloads section to be both easier to use, and it now has more things, including my Spyro Orange guide and my Spyro the Dragon guide. Make sure to go there too if you want to get all the maps from Attack of the Rhynocs.

And also note that I have altered the address to send e-mails to me. No longer send them to darkspyro@darkspyro.tk as that address doesn't and hasn't worked in a while, now send them to darkgta4@yahoo.co.uk and you should get replied to within a day or two. Any e-mail sent to me at darkspyro@darkspyro.tk will not have gotten through and I won't have been able to read it. Sorry about that, but if you still need help or want to ask me anything, either send me another e-mail or post in the forums.

OK, more updates tomorrow hopefully.
7:00 AM - Monday the 12th of July, 2004 - by dark52
OK, I've begun working on the guide now, but due to the new way of writing the guide that I'm trying out, no actual content will be available until at least Friday and perhaps later.

While this does mean a longer wait for the initial part of the guide, it will mean that I will be able to complete the whole of the guide much faster. If this method works well then I'll use it for Year of the Dragon as well, if not then I won't. Simple as that.

Oh, and as you might have noticed, I got bored of writing the character/creature guide for the most part, but I am still working on it and it will next get updated soon with everything in a better order and a more accessible way of reading it then a huge long jumbled up list of random things. I will also try to add all the things from Spyro 2 as well, but obviously only after I have finished it for Spyro 1.
7:00 AM - Sunday the 11th of July, 2004 - by dark52
Hurray! I've finally done the whole of the guide for the game. Just a few tweaks here and there as well as a new page for the cheats, and I'm done with Spyro the Dragon and can move on to Spyro 2: Gateway to Glimmer soon (or as you might know it, Spyro 2: Ripto's Rage).

While I won't get started on that till tomorrow, it should start arriving pretty quickly since it's very nearly summer now.
7:00 AM - Friday the 9th of July, 2004 - by dark52
I have now done all the way to the end of the Peace Keeper's world and got halfway through the Magic Crafters. Hopefully this will help some of you, but I still have a long way to go before it's anywhere near complete. Currently it stands at 42% completion. While I won't be able to write too much more until next weekend, I will try to write a bit.

Once it is next weekend though, then the guide should speed up and near completion by the 21st of July, hopefully begginning on Spyro 2 the same day. If I get ahead of schedule (as I hope I will) I will obviously not take so long to get everything completed. Amazing huh?