News and Updates
1:30 AM - Saturday the 1st of April, 2006 - by dark52
This was an April Fools by the way...

It's been a long two years but I'm afraid this is the end for darkSpyro. I just can't see Spyro going anywhere, and that's why I welcome you to my brand new replacement website darkCrash. Without the four legged limitations of a dragon, this orange marsupial has a lot of room left to grow and improve. Whilst the sections are barebones at the moment that's something I'll be working on over the next few weeks.

Sorry for any inconvenience if you were expecting a Spyro the Dragon fansite, and hopefully there won't be any residual problems left over from the Spyro days, which I hope we can all now just forget as Crash is the only one with a real future.
12:53 AM - Tuesday the 21st of March, 2006 - by dark52
I've added a way of rating each of the games out of five. Just click on the stars at the top of each game page, choose the number of stars you want to rate it then just click on the corresponding star on the new picture. It doesn't work without JavaScript though.

Along with that I've added a top five at the top of the homepage, it uses the new ratings, as well as a short list of the latest news articles. As always there's always a chance of bugs this early on so please let me know if you find anything wrong with it.
11:01 PM - Tuesday the 14th of March, 2006 - by dark52
It seems like the new Spyro game may have a name at last. Due for release on GBA, PS2, DS, GC and Xbox on the 13th of October 2006,
Spyro: Legend
is apparently the next game in the Spyro series. And again the game appears to be being developed by yet another new company to the series, this time it's Havas Interactive. This information was found at
Gamesarefun.com
and emailed to me by Jon.
Also on the find list is a new Crash Bandicoot game,
Crash: Boom Bang
on the DS due for release at the same time.
I'd say that whether the game will actually get released on all the consoles mentioned is questionable; it's a lot of different versions to manage.
5:47 AM - Tuesday the 21st of February, 2006 - by dark52
Aside from what may or may not be a vague prediction on
IGN
, there's still been no news of a new Spyro game. There's a similarly vague thing about it
here
(which gives a 3rd quarter release for Spyro 6 on the PS2, GameCube, GBA and DS) too.
In site news, I've put the Ripto Quest section back in action and have added a brand new Spyro the Dragon section for the Mobile game bearing that name. You'll find them in the 'Other Games' link on the right. There's also a new alternative link to the proper games sections just above it.
I've altered the news archives for individual years so that they show a calendar of the year rather then producing a long page of news items, though that option is still there. I might as well mention the forum changes too.
UPDATE: I've also just added a rather pointless poll on the right.
8:14 PM - Monday the 2nd of January, 2006 - by dark52
Welcome to the brand new look to darkSpyro. We've got the same content as before and a little extra (minus Ripto Quest which will be back soon anyway). Use the image links on the left to navigate your way around the games. All other links are on the right as well as the advert, remember that that's the only thing paying for the hosting.
Anyway, there may be some new glitches and mistakes around the site whilst I try and iron any out. If you wouldn't mind mentioning any you find in the comments for this news post I'd be very grateful. And just so you know, the random image selection in the top right isn't switched on just yet, I'll probably get round to doing that tomorrow when I fix up the banner as well.
As well as all that, I've written a brand new guide, for the Mobile Phone game
Spyro the Dragon
. View the basic text file
here
.
UPDATE: Now with hover effects.
8:47 PM - Sunday the 25th of December, 2005 - by dark52
Yep. Hope you had a good one.

And look out for a new look to the site in the new year.
1:28 AM - Friday the 25th of November, 2005 - by dark52
A new mobile Spyro game has been released, again made by Kaolink, it features Spyro going around rescuing a few dragon elders from the Shadow Realm.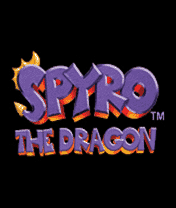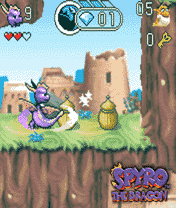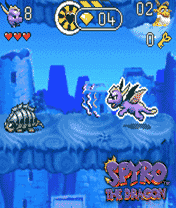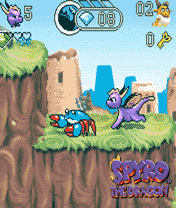 With only seven levels, it's not a long game, but it at least looks a little bit nicer then Ripto Quest did despite being a side-scroller. Quite why they couldn't think of an original name for the game though...
11:33 PM - Monday the 14th of November, 2005 - by dark52
Welcome to the brand new home for the site,
www.darkspyro.net
. Finally moved from the free hosts that have been vanishing as soon as we're established on them, but we're going to be staying at this .net location for quite a while now.
Since we went offline on the 28th of last month, I've finally managed to complete my Season of Flame guide along with a map showing the locations of the chests and keys as well as all of the eight items to flame/freeze/electricute in each level. I've also gone over a few of the older guides and spruced 'em up a little, there's not much new in them, but still. The Character Guide additions were put on hold just before the site went offline, but I'm going to start doing that again from Wednesday onwards. Oh, and a new small website has been setup to host all of my guides, see that at
darkFAQs
.
Some Spyro reviews are in, and it's not looking too good for Shadow Legacy if you're to believe them.
IGN
give it a 4/10,
Eurogamer
also gave it the same, Nintendo Power have apparently given it a 6.5/10 and
Planet Gamecube
gave it a 5.5/10. Check out some user reviews at
GameFAQs
and
GameSpot
as well to see their views.
5:33 PM - Sunday the 23rd of October, 2005 - by dark52
Looks like the site may be on the move again, our hosts are taking their server offline due to a rise in prices from their providers. They do say they are looking for a new server but I've no idea how long that will take, though I'll probably start looking for a new host after a week. In the meantime whilst this site is down, the darkspyro.tk extension will be pointing back to a geocities page where I'll post any updates to the situation. Seeya.
Sometime...

8:21 PM - Monday the 17th of October, 2005 - by dark52
Five months on and I've
finally
finished off putting the
Spyro the Dragon
set of characters (88 in total), you can now find every single dragon in the Character Guide. Just another ten games to go... Oh, and I've added a thing on the right of the main page for some reason. Seemed like a good idea at the time.
In other news, the official
website
has been updated to promote Shadow Legacy, it doesn't really have anything new that we didn't already know, but there's a nicer link to the newest of the videos there.
News Calendar
Latest Page Updates