News and Updates
9:01 PM - Thursday the 9th of July, 2015 - by dark52
Earlier today Instagram user
ziotec
took some photos of the back of a Skylanders SuperChargers pre-order display box which shows off several new Skylanders and vehicles.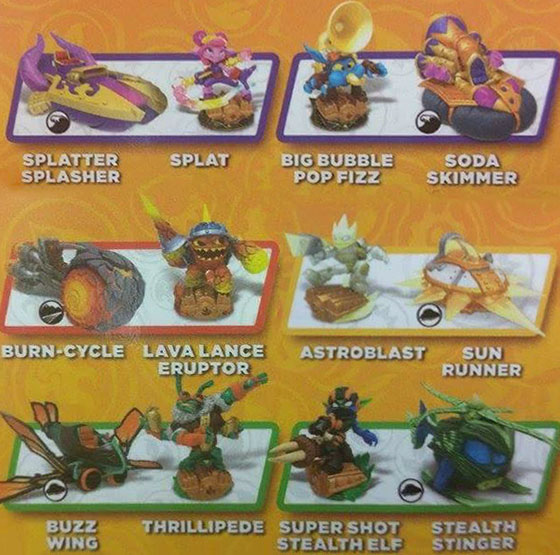 So we now know of the new Life SuperCharger "Thrillipede", the returning Magic SuperCharger "Big Bubble Pop Fizz", and the new Light SuperCharger "Astroblast".
There are some new vehicles with Pop Fizz's vehicle "Soda Skimmer", Thrillipede's vehicle "Buzz Wing", and Astroblast's vehicle "Sun Runner". And we have names for Splat's vehicle "Splatter Splasher", Lava Lance Eruptor's vehicle "Burn-Cycle", and Stealth Elf's vehicle "Stealth Stinger".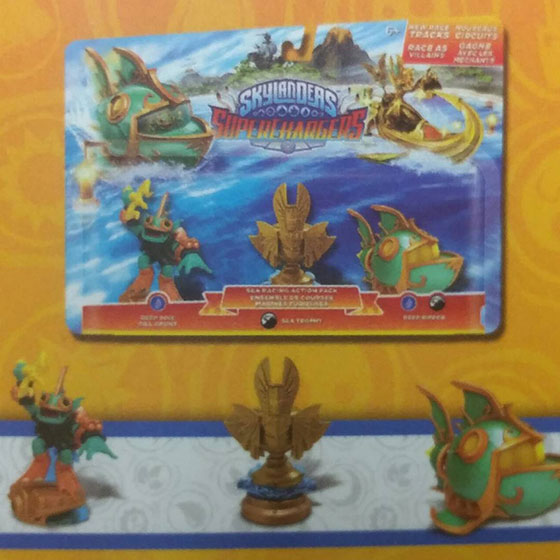 On the side of the box there is also confirmation of "Racing Action Packs", the example of which contains Deep Dive Gill Grunt, Reef Ripper, and a Sea Trophy shaped like Golden Queen's head. It is likely of a similar function to the Kaos Trophy that comes with the Dark Edition Starter Pack, but we still don't really know what that does yet either. The top corner of the pack does however mention "New Race Tracks" and "Race As Villains" so make of that what you will.
Also worth noting is that in a list of features the box mentions "NEW Online Multiplayer Race & Coop Modes".
In a separate event a product listing on a French retailer's website has outed a possible partial line-up for Wave 1 of SuperChargers along with a potential name of a SuperCharger "Smash It" (by the process of elimination that's either the Earth SuperCharger or the beginning of Roller Brawl's name). If the listings are accurate then (other than the Starter Packs) Wave 1 will be the following:
SuperChargers
Dive-Clops

Stormblade

Fiesta

High Volt

Nightfall

"Smash It"

Shark Shooter Terrafin
Vehicles
Dive Bomber

Crypt Crusher

Sky Slicer

Shark Tank

Stealth Stinger

Jet Stream

Sea Shadow

Burn-Cycle
I am sure it's not out of the realms of possibility that there will also be a Racing Action Pack and Combo Packs available at launch in September.
12:43 PM - Tuesday the 7th of July, 2015 - by dark52
The Dark Editions for
Skylanders SuperChargers
have been revealed. The PS4/PS3/Xbox One/Xbox 360 versions will contain Dark Spitfire, Dark Super Shot Stealth Elf, Dark Hot Streak, Dark Sea Shadow and a Kaos Trophy that can be used to unlock "special Kaos gameplay content". It'll cost you $99.99 for the Dark Edition.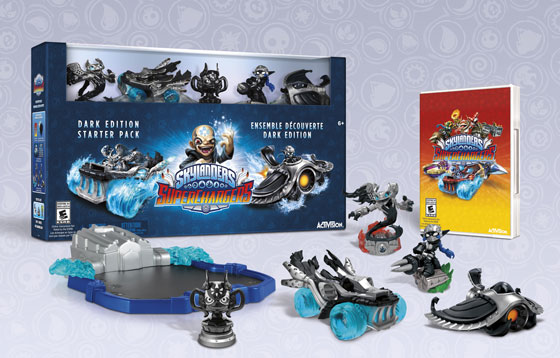 The Wii U edition will have Dark Spitfire, Dark Hot Streak, Dark Turbo Charge Donkey Kong, Dark Barrel Blaster and the Kaos Trophy.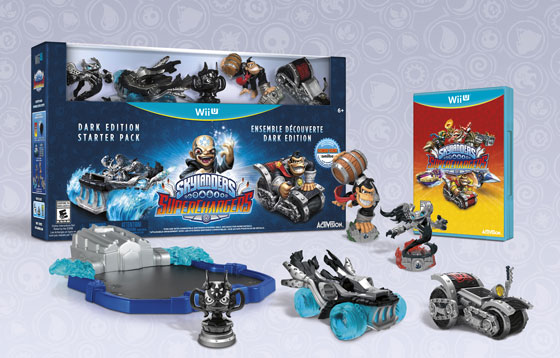 The Wii edition will have Dark Spitfire, Dark Hot Streak, Dark Hammer Slam Bowser, Dark Clown Cruiser and the Kaos Trophy.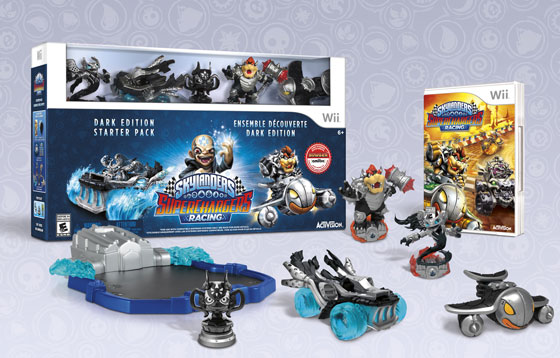 Also revealed are several new entries to the Eon's Elite line of figures. The first wave of them will be available exclusively at Toys R Us in November and is made up of Slam Bam, Zook and Voodood.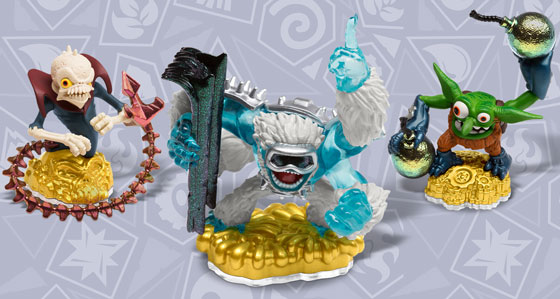 A second wave with Ghost Roaster, Boomer and Dino-Rang will be released in December.
Check out a load of
screenshots
and
artwork
in the SuperChargers Gallery.
5:35 PM - Tuesday the 16th of June, 2015 - by dark52
During today's Nintendo E3 "digital event" it was revealed that Donkey Kong and Bowser will be joining the Skylanders, exclusively on Nintendo platforms.
| | |
| --- | --- |
| | |
| Hammer Slam Bowser | Turbo Charge Donkey Kong |
Donkey Kong will be packaged in the Wii U Starter Pack, replacing Spitfire and his vehicle, and Bowser will be in the Wii and 3DS Starter Packs (also replacing Spitfire). The Wii and 3DS Starter Packs actually carry the title
Skylanders: SuperChargers Racing
, a different experience was mentioned previously but this is the first we've seen of it.
| | |
| --- | --- |
| | |
| Clown Cruiser | Barrel Blaster |
What is quite nifty is that the figures have a dual purpose, if you rotate the base they can also be used as amiibos.
These characters and vehicles will only work on Nintendo platforms, you will not be able to play as Bowser on the PS4 or anything like that.
Check out a load of screenshots and artwork of the characters in the
SuperChargers Gallery
.
A few other characters have also been revealed, Kotaku have an article showing off Undead SuperCharger
Fiesta
with his vehicle Crypt Crusher, and the Skylander Boy and Girl have a video unveiling the Dark SuperCharger
Nightfall
and her vehicle Sea Shadow. And if you look closely at the
boxart
for the Wii and 3DS versions you can see SuperCharged versions of Eruptor and Rollerbrawl driving vehicles.
1:31 PM - Wednesday the 3rd of June, 2015 - by dark52
Skylanders SuperChargers
has been officially revealed. Matching pretty much everything that was rumoured we will be collecting from a set of 20 new SuperCharger Skylanders along with 20 new Vehicles to drive.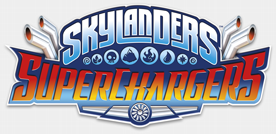 Spitfire
Stormblade
Super Shot Stealth Elf
There will be 10 brand new SuperCharger characters and 10 reimagined SuperChargers based on existing characters, such as Stealth Elf, Trigger Happy and Terrafin. They each have a matching vehicle which, when used together, they SuperCharge but any Skylander can use any vehicle. The SuperChargers will cost $12.99.
Hot Streak
Sky Slicer
Dive Bomber
The vehicles will be split into three groups, Land, Sea, and Sky, each being used for a different section of gameplay. Each vehicle can be customised in-game with modifications and weapons but only SuperChargers will be able to utilise this customisation feature. The vehicles will cost $14.99.
Quote:
In Skylanders SuperChargers, Kaos' quest to rule over Skylands reveals his most sinister weapon ever - a massive "Doomstation of Ultimate Doomstruction" capable of eating the sky itself. Fortunately, Master Eon had seen the warning signs and assembled a special team of Skylanders to pilot an unstoppable fleet of vehicles with the power to destroy the reign of destruction! With Skylands facing its greatest threat, the Skylanders must pilot their supercharged vehicles over land, under sea, and through the sky to stop Kaos!
While there is a new Portal of Power included in the Starter Pack you will be able to purchase and download a digital Portal Owners Pack and use your existing Portals to play the game.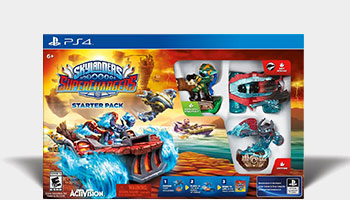 It will again be on all platforms, PS4, PS3, Xbox One, Xbox 360, Wii U, Wii, and 3DS. The Wii and 3DS versions will have a different experience to the other versions.
The game is set for release on the 20th of September in North America, the 24th of September in Australia, and the 25th of September in Europe.
Check out our
Gallery
for a few more
Skylanders SuperChargers
images.
There are loads of previews up around the web on sites such as
Polygon
,
Forbes
,
Kotaku
,
GameSpot
,
TheHDRoom
, and
Game Informer
and plenty of videos on Youtube channels like
FamilyGamer TV
,
TheSkylanderBoy AndGirl
,
VideoGamerTV
,
Coin-op TV
and many more.
11:36 PM - Tuesday the 2nd of June, 2015 - by dark52
Well, there we have it,
Skylanders: SuperChargers
confirmed. Thanks to
Eurogamer
(link now broken) and new forum member
BOOMCAKE
we have a look at some of the new characters, vehicles, and reposes as well as the logo for the new game.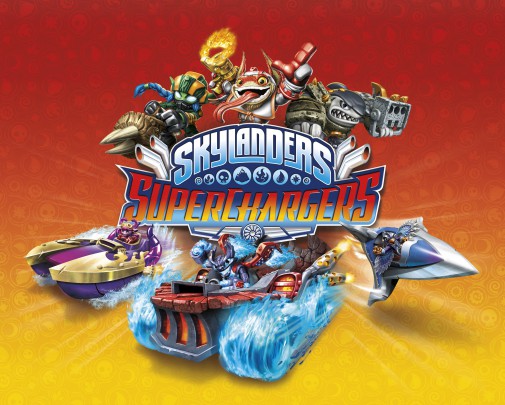 Backing up the recent
Amazon listings
there is a reposed version of Stealth Elf along with reposes for Trigger Happy and Terrafin, bringing them each up to Series 4. If the Amazon information is indeed correct then the middle of the three new Skylanders is called Spitfire, no names are known for the other two just yet.
The official embargo is anticipated to be lifted sometime tomorrow so expect more details on
Skylanders: SuperChargers
very soon!
7:00 AM - Saturday the 30th of May, 2015 - by dark52
Forum member skylandersspyro has
spotted
several barebones listings on
Amazon.com
for a game called Skylanders: SuperChargers that looks to confirm the
recent
rumours
for the next Skylanders game.
The listings mention the contents of the Starter Pack as being 2 Skylanders SuperChargers figures - a new Skylander named Spitfire and a reposed Super Shot Stealth Elf, and one Skylanders Vehicle called
"Hot Steak"
"Hot Streak". It also mentions a new portal of power... how many is that now?
A brief plot summary is detailed:
Quote: Amazon.com
Skylands is in peril! Kaos has unleashed his most evil weapon yet - the Doomstation of Ultimate Doomstruction. With all of Skylands on the verge of collapse, a special team called the SuperChargers has been assembled to pilot an unstoppable fleet of incredible vehicles. Now you and the SuperChargers must embark on epic adventures over land, under sea, and through the sky to stop Kaos and save Skylands!
There are listings for
PS3
,
PS4
,
Wii U
,
3DS
, and even a version for the
Wii
(albeit with a note saying that the "gameplay content, features, and functionality will differ") but no potential release date is given.
It shouldn't be too much longer before we find out whether this is accurate and we get our first proper look at the game,
rumours
place an official reveal happening on Wednesday, the 3rd of June.
12:00 AM - Wednesday the 1st of April, 2015 - by dark52
From today we here at darkSpyro are introducing a totally new way for you to help the website and in doing so bring to life many of your oft-requested features. The

dS Coin is our brand new currency that you can use to gain access to all of the newly developed features and extra customisations of your experience here on

Obviously we can't expect you to jump on board without trying a few things out first so we have given each and every one of you a
starting balance
of a whopping

1,000, enough to make hundreds of posts! You'll be able to put it towards many different things like posts, topics, titles, avatars, skins, usernames, signatures, your own personal board, and much much more!
Our
prices
start at just $5 for

500 and get more competitive the more you spend at once. Those of you who are unable to or can't afford to actually
buy
any

dS Coin you'll be excited to hear that we also offer a

Gem
conversion service
where you can transform your hard earned Gems into the brand new currency with great ease. It may take a while to build up enough

to turn into enough

to purchase the more expensive items but it will be well worth the wait when you finally get there.
Lastly, since this is just the beginning the prices are still in flux as we figure things out, while we're doing that you have our guarantee that if a price in

ds Coin goes down within 30 days of purchase we will refund you the

dS Coin difference. And, of course, if a price goes up there will be no extra charge.
6:21 PM - Tuesday the 10th of February, 2015 - by dark52
Thanks to the ever eagle-eyed
myskylanders.de
we now have a detailed arrangement of the new toys that make up Wave 4 of
Skylanders: Trap Team
. This new selection of toys is apparently scheduled for release in Europe either at the end of February or in the middle of March.
Core Skylanders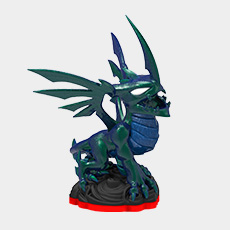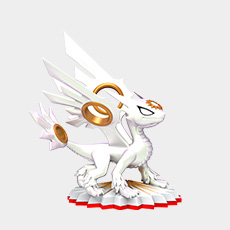 Blackout, Spotlight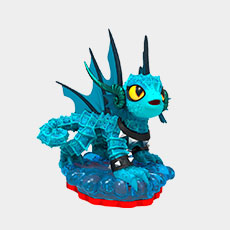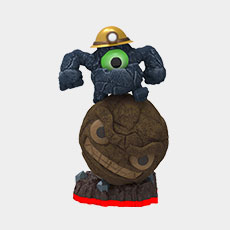 Echo, Rocky Roll
Wave 4 will also bring to US retail the singles for Bat Spin and High Five who were a part of Wave 3 elsewhere.
Trap Masters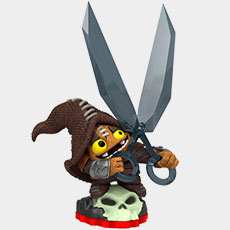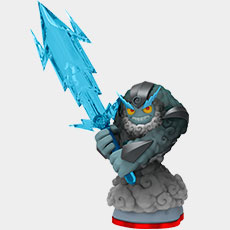 Short Cut, Thunderbolt
There are also single releases for the new Dark and Light Trap Masters Knight Mare and Knight Light. This will allow you to access the Dark/Light Elemental Gates without having to buy the full Expansion Packs.
Mini Skylanders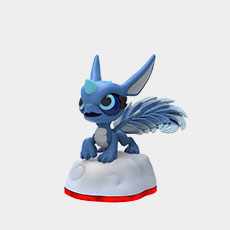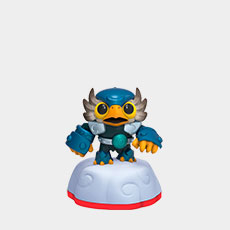 Breeze and Pet-Vac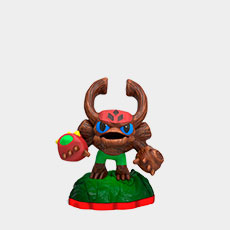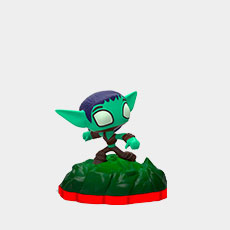 Barkley and Whisper Elf
Traps





Air Sword, Earth Handstand, Life Sword, Fire Captain's Hat, Undead Captain's Hat





Tech Handstand, Magic Rocket, Dark Sword, Dark Handstand, Light Rocket
There will also be two new Trap Triple Packs. One contains Tech, Fire and Kaos traps, and the other contains Air, Undead and Magic traps.
And in other Skylander release news:
Legendary Bushwhack is apparently
due for release
this very Sunday at Toys R Us. And on
the same day
Nitro Head Rush is due out as well at Target.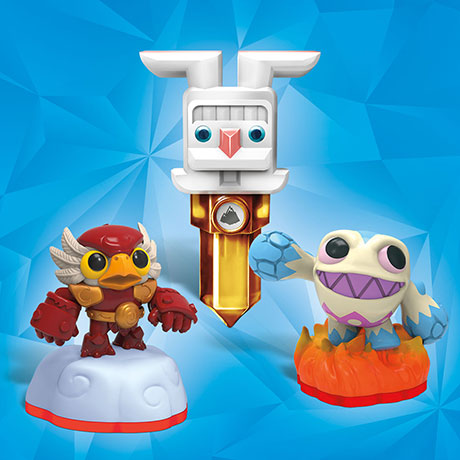 Power Punch Jet-Vac and Eggsellent Weeruptor have been unveiled for an Easter release along with a special looking Earth Handstand trap.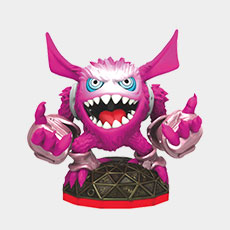 And of course don't forget Love Potion Pop Fizz for Valentine's Day, he's available right now.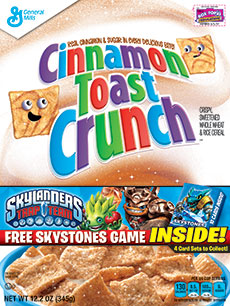 For those of you looking for something more than just the in-game toys, from February 14th in the US specially marked boxes of General Mills cereals (including Honey Nut Cheerios, Cinnamon Toast Crunch, Reese's Puffs, Trix and Lucky Charms) will have a pack of 10 Skystones cards inside that can be used to play a game of Skystones for real! There are four different packs to collect each with two "boss" cards included. See this
forum topic
for sightings and more details on the cards themselves.
5:08 PM - Tuesday the 23rd of December, 2014 - by dark52
To mark the release of Wave 3 and the Light and Dark Element Expansion Packs this past week I have updated the console
Skylanders Trap Team
walkthrough
to include all of the Dark, Light and Magic Gates as well as the two new levels
Midnight Museum
and
Sunscraper Spire
.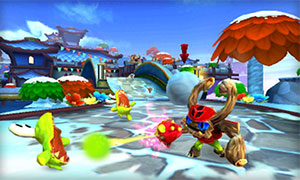 I have also posted a brand new and complete walkthrough for the
3DS version
of Skylanders Trap Team featuring locations for all of the Hats, Chests and Nightmare Pages along with tips for fighting and capturing all of the villains you encounter along the way.
2:11 PM - Wednesday the 17th of December, 2014 - by dark52
Finally confirming the rumours, Activision today released official information regarding the two new elements, Light and Dark, and giving the
Element Expansion Packs
a release date. In the United States it'll be on the 21st of December at Toys R Us, that's this Sunday!
And while they're already out in some parts of Europe they won't be arriving in the UK until Boxing Day, the
26th of December
. And on the same day in
Australia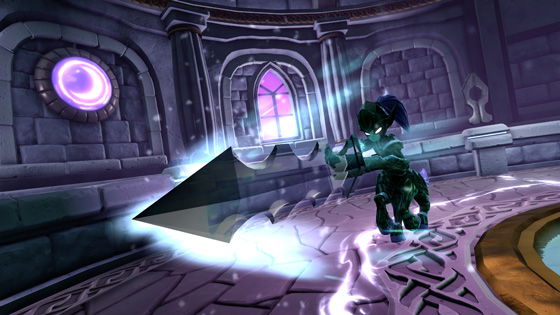 They also gave us a glimpse at the other two members of the Light and Dark families: Spotlight and Blackout.
Unfortunately there was no accompanying release date for these core Skylanders.
You can check out a load of screenshots
screenshots
and
artwork
of all four new Skylanders in the Trap Team
Gallery
as well as
last Friday's
news post for images of the Element Expansion Packs themselves.
News Calendar
Latest Page Updates