News and Updates
1:29 AM - Monday the 19th of September, 2016 - by dark52
Continuing the rather odd looking line of variants that started with Smash Hit last year is Steel Plated Hood Sickle for
Skylanders Imaginators
.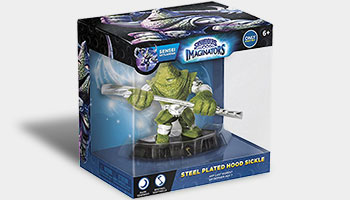 Previously seen referenced to by text listings this is our first proper look at the variant that, according to the box, will once again be exclusive to Best Buy. Best Buy have yet to post it (or any other figures) themselves but if the European listings are any indication then it should be available at launch (which is less than a month away!).
Thanks to
Buuzer
for spotting it on
Amazon.it
.
11:34 PM - Saturday the 17th of September, 2016 - by dark52
Toys R Us have posted the first of their new exclusive Legendary Skylanders for
Skylanders Imaginators
and it's a
Legendary Tri-Tip
.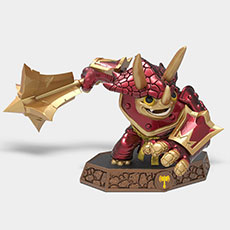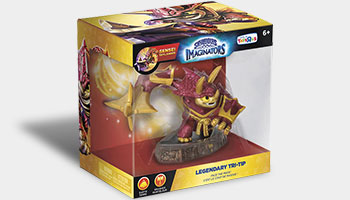 Sporting a new red and gold colour scheme compared to the blue and gold Legendaries of the previous games, Legendary Tri-Tip will be released at launch. His regular edition is part of Wave 2 which is expected to also be released at or near to launch but perhaps in more limited quantities or only at specific stores to begin with.
Another new look Legendary being produced for Imaginators is Legendary Pit Boss, an Undead Sorcerer. He was accidentally revealed by the official website earlier in the week when they unveiled his regular edition.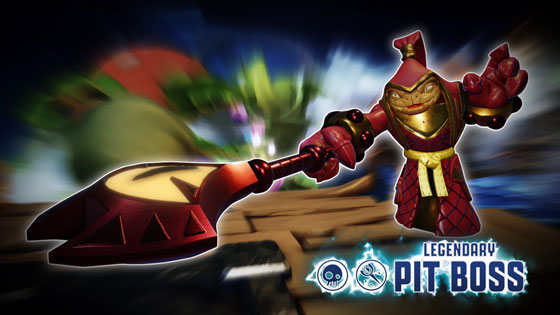 It is not yet known when this guy will be released.
Thanks to
preciousawaken
for spotting the Tri-Tip listing.
2:22 PM - Tuesday the 16th of August, 2016 - by dark52
While we patiently await news from gamescom this week, some US retailers have spilled the beans on a certain someone's inclusion in the Crash Editions. Not only will they contain the regular Starter Pack's contents and Crash Bandicoot but they'll also have a Dr. Neo Cortex toy too!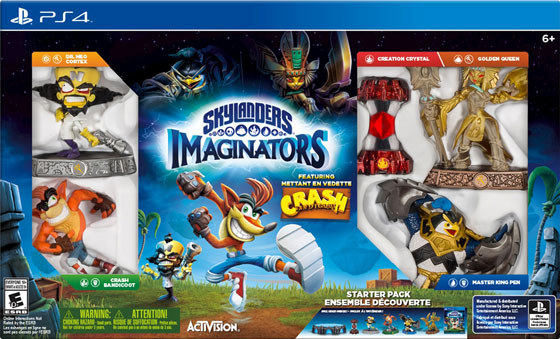 The packaging indicates that Cortex will be part of the Tech element and will be a Sorcerer Sensei (hopefully why will become clear once we see him in action).
For those of you who are not on a Sony system it is worth noting that some European retailers have listed a product with the title "Adv Pk Crash" with an end of November release date. What that is exactly is of course not 100% clear but it could be a way for you to get your hands on Crash, and possibly also Cortex, without having to buy a Starter Pack for a console you don't own.
10:43 PM - Friday the 5th of August, 2016 - by dark52
Thanks to a
Reddit post
by Syniz we now know that as part of a bonus for pre-ordering
Skylanders Imaginators
it appears that certain participating retailers are going to be giving away a free Kaos figure.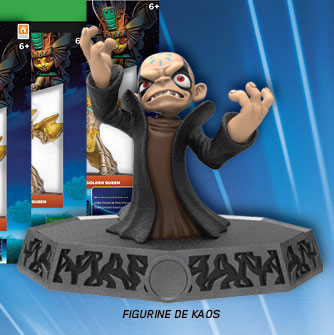 In the past two years we've had a Kaos trap and a Kaos trophy but now we're finally going to have a proper Kaos toy to add to our collections.
6:41 PM - Monday the 1st of August, 2016 - by dark52
An update today to the
Skylanders Battlecast
trading card app brought in the four new Skylanders that are currently being given away in promotional packs of General Mills cereal in the US.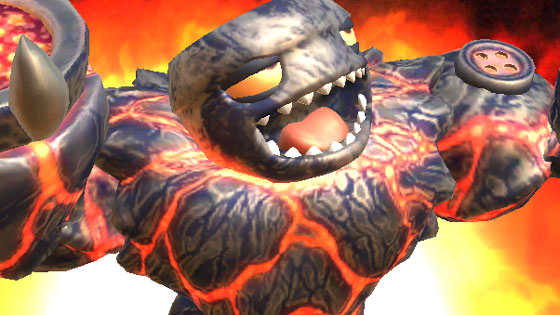 Along with the brand new Sonic Boom and Prism Break Skylanders there are also two new variants of existing Skylanders, High Noon Trigger Happy and Obsidian Hot Head, who not only look different but have a different Ability to their regular counterparts.
Other new stuff the game has added include some help dialogs from Buzz as you go into menus for the first time as well as explanations of what the status effects do next to your cards when playing.
1:07 PM - Tuesday the 26th of July, 2016 - by dark52
Instagram user
adamaboumouss
has spotted that the latest issue of MEGA! magazine has got a whole load of new Skylanders and Villains for Skylanders Imaginators.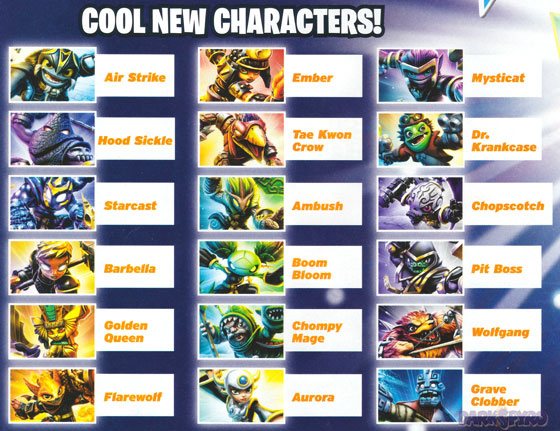 Organised by elemental alphabetical order we have for the new characters: Air Strike (Air), Starcast (Dark), Flarewolf (Fire), Boom Bloom (Life), Aurora (Light), Mysticat (Magic), and Pit Boss (Undead). Also included are the returning Villains Chompy Mage (Life) and Grave Clobber (Water).
We're getting very close to a full roster now as that brings the total seen Skylanders to 16 out of 20, and the Villains to 9 out of 11.
And thanks to forum member Newguy333 for
spotting the post
.
7:43 PM - Saturday the 16th of July, 2016 - by dark52
The latest edition of the Argos catalogue has included advance listings for several previously unannounced Skylanders from
Skylanders Imaginators
.
They include an Earth Sentinel named Barbella, an Undead Smasher called Chopscotch, as well as two returning villains: the Tech Quickshot "Dr. Krankcase" and the elementally realigned Fire Ninja "Tae Kwon Crow".

And a few days ago there was an official reveal at the "Sweet Suite 16" event in New York City where they showed off another elementally realigned returning villain, the now Dark Sentinel "
Hood Sickle
".
5:19 PM - Thursday the 16th of June, 2016 - by dark52
The animated Skylanders TV series
Skylanders Academy
will debut on Netflix in Fall 2016 as part of a two season partnership it was announced today.
Quote: Press Release
The series follows the heroic adventures of the Skylanders team, a group of heroes with unique elemental skills and personalities who travel the vast Skylands universe, protecting it from evil-doers and showing the next wave of Academy cadets how to do things the "Skylander way."
Skylanders Academy will feature the voices of Justin Long as Spyro, Ashley Tisdale as Stealth Elf, Jonathan Banks as Eruptor, and Norm MacDonald as Glumshanks. There will of course be many more people providing voices for the series including The Diamond Minecart, Susan Sarandon, Daniel Wu, Parker Posey, James Hetfield, Catherine O'Hara, Bobcat Goldthwait, Chris Diamantopoulos, Jonny Rees, Harland Williams and Richard Horvitz.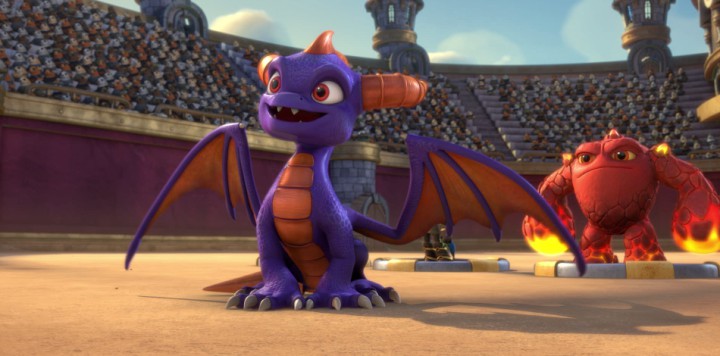 The series' showrunner is Eric Rogers ("Futurama") and the animators are TeamTO. Check out a few more of the initial images of the show in our
gallery
and join the discussion in the
forum
.
2:15 AM - Tuesday the 14th of June, 2016 - by dark52
Confirming the rumours, at Sony's E3 press conference it was revealed that Crash Bandicoot is indeed coming to
Skylanders Imaginators
.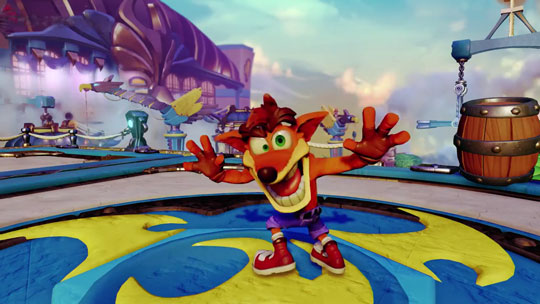 As for the game's lore for why he's here:
Quote:
A wormhole has opened in Skylands and the great Aku Aku appears! He has come to announce the once-in-two-decades Synchronization Celebration--a time when all of the worlds align perfectly. All the inhabitants of Wumpa Island are having a party and they want to invite the Skylanders. But with Kaos on a quest to take over Skylands using his army of Doomlanders, the Skylanders must focus on stopping his evil plans. Never one to shy away from danger, the legendary marsupial Crash Bandicoot leaps through the wormhole to join the Skylanders in the ultimate battle against Kaos!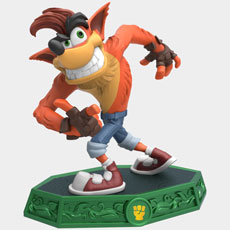 He will be available in special PlayStation 3 and PlayStation 4 Starter Packs but the character will be playable on all consoles, he will not be restricted like Bowser and Donkey Kong last year.
And that's not all for the long dormant character, they'll also be remastering the first three PS1 Crash Bandicoot games for PS4.
11:05 PM - Friday the 10th of June, 2016 - by dark52
Following on from a couple of Singapore based retailers listing a PS4 exclusive "Crash Edition" of
Skylanders Imaginators
, the
official website
has perhaps inadvertently confirmed that something with that name is indeed coming.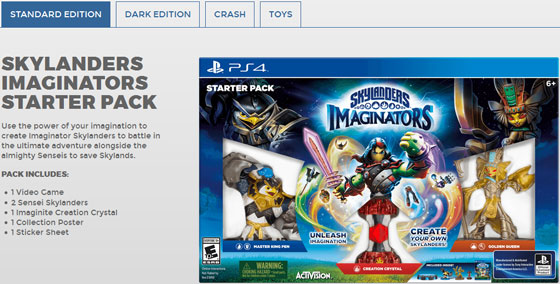 Nothing beyond the word "Crash" is mentioned as the tab does nothing when clicked on but it certainly backs up what those retailers had listed. With E3 2016 next week the contents of this "Crash" bundle will hopefully not remain a mystery for too much longer.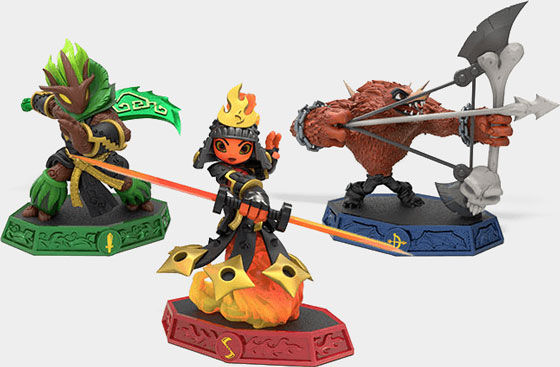 The site also showed off the toys of a couple of new Sensei characters that we've previously seen in artwork form, as well as Wolfgang's regular toy.
Thanks to
TheCreator
for spotting this.
News Calendar
Latest Page Updates