Other Games

Skylanders: Battlecast
Skylanders: Battlecast
Skylanders Battlecast was a Skylanders themed card game for mobile devices.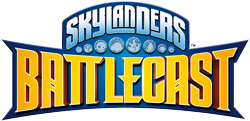 May 24th, 2016

May 27th, 2016

April 15th, 2016
The game itself was free to download via the App Store, Google Play and the Amazon Appstore. Physical cards are sold in Battle Packs (22 cards) and Booster Packs (8 cards), you could scan them into the game to unlock them for play. In-game you could also earn and purchase coins that you could spend on digital cards and packs.
The game's servers were shut down on the 1st of September 2017.
---
Comments




All off-topic comments will be deleted. Please do not use the comments system for conversations, instead use the provided forums for the game.
Please login or register a forum account to post a comment.