News and Updates
1:22 PM - Thursday the 18th of September, 2014 - by dark52
Activision have today shown off, at long last, images, videos and details on the Nintendo 3DS edition of
Skylanders Trap Team
. The portable game will again have a story completely unique to that of the consoles and will feature 14 exclusive escaped villains. This time you'll be fighting the evil Dream Sheep who is trying to put the whole of Skylands to sleep with his Sleep Dragon.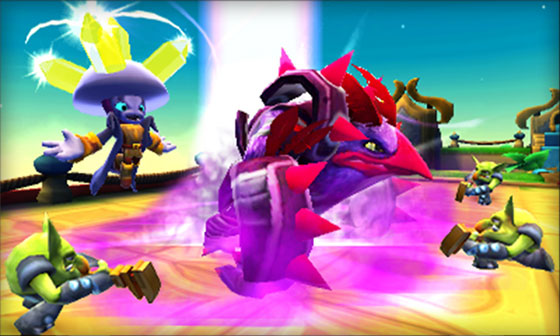 Instead of using Traps to capture the villains the 3DS makes use of its touch screen to capture them, meaning that the villains cannot be used in the console version and vice versa. You can use the villains in regular gameplay but also in some special "boot camp" training levels.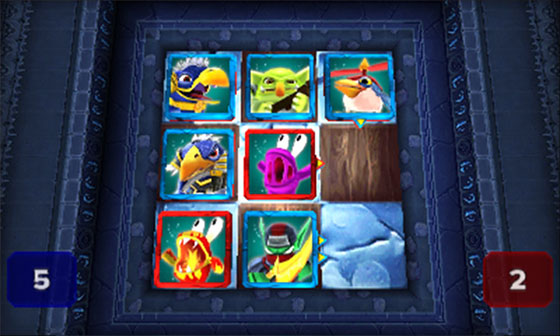 The game also features a multiplayer version of Skystones which you can play online over WiFi, interestingly it's the original form of Skystones seen in
Skylanders Giants
rather than the new Skystones from the console versions of Trap Team.
The 3DS Starter Pack will come with Gusto, Barkley and a Portal of Power. So no traps and no exclusive alt-deco.
Check out the
gallery
for some more screenshots of the game and this
EvanTubeHD
video for footage of the game in action (including a
glimpse
at a Moon icon and a Sun icon at the bottom of the other elements).
6:49 PM - Monday the 15th of September, 2014 - by dark52
Earlier today the
official Skylanders
website updated to include (almost) all of the brand new Skylanders and Villains that you'll be able to play as in
Skylanders: Trap Team
.
You can see all of the villain artwork in much greater detail than we've previously seen on the poster, as well as a few new trap moulds including a Snake, a Sword, and a Rocket along with several others. They also each have a short audio line as well as their theme music.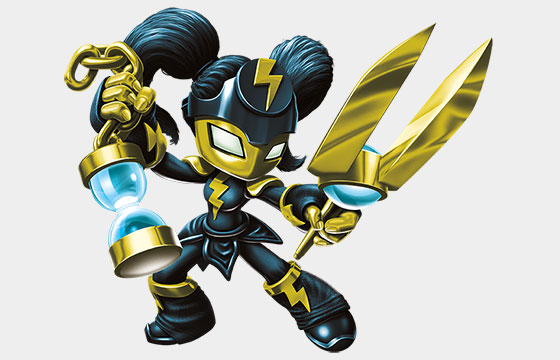 The Skylanders each have their own full sized artwork, a small image of the toy, a few screenshots and a video along with their backstory, card stats and audio catchphrase. Amongst all of that one brand new Skylander variant has been unveiled, as seen above it's a
Legendary Deja Vu
. No sign of any of the mystery Skylanders just yet.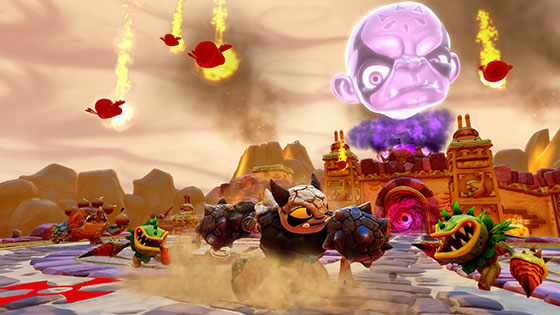 Also announced today was a brand new game mode debuting in Trap Team called "Kaos Doom Challenge". In it you will be fighting waves and waves of enemies that Kaos is sending to attack you, you'll be able to build special defense towers that help you to keep them away from the "Mystery Box of Doom" which unleashes a gigantic villain if opened.
Quote: Kaos
A recent evil study of a thousand trolls revealed that nine out of ten agree that I am the most powerful and impressive evil doer to have ever conquered Skylands. Naturally, I had every tenth one banished to my "Kaos Doom Challenge" to test the effectiveness of my 100 waves of ultimate evil doom - and they were never heard from again. So let's just say EVERYONE agrees - I am the most powerful and impressive evil doer ever.
There are a few videos going through a few waves by
The Skylander Boy And Girl
and
Coin-op TV
that you can check out to get a better idea of exactly what this mode is going to be like.
4:35 PM - Friday the 15th of August, 2014 - by dark52
After a slightly blurry
glimpse
earlier in the week the official
Skylanders Facebook
page has provided us with a much larger and clearer version of the Starter Pack poster. Click on the image below to see it at full size: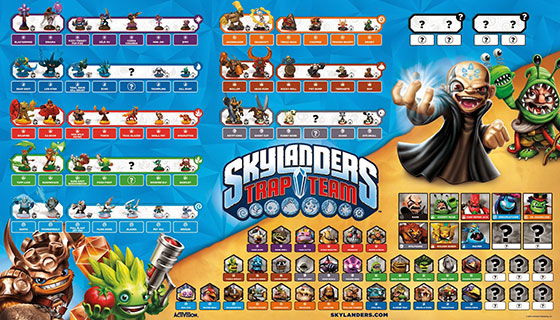 The poster includes names for the four remaining unnamed Trap Masters:
Enigma (Magic)

Tuff Luck (Life)

Thunderbolt (Air)

Short Cut (Undead)

As well as names for several new core Skylanders:
Cobra Cadabra (Magic)

Echo (Water)

Trail Blazer (Fire)

Fling Kong (Air)

The only Skylanders we still don't know the names of are the three Frito-Lay Skylanders and whoever those four question marks represent in the top right corner.
The poster also lists names and elements for nearly all of the villains, including a couple of new "Super" villains Dreamcatcher and Golden Queen, but again there are two Super Villains still hidden behind question marks along with six of the regular villains.
10:14 AM - Wednesday the 13th of August, 2014 - by dark52
In previous games the sidekicks simply followed your characters around not doing much, in
Skylanders: Trap Team
that's all going to change. Now known as "Mini Skylanders" the existing eight have been reissued and joined by a new set of eight mini versions of previous characters and they have all been promoted to fully playable Skylanders.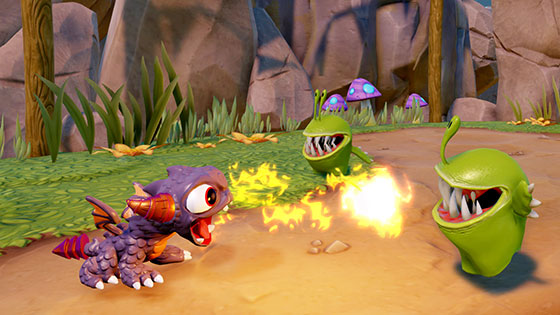 Each of the Mini Skylanders will be just as upgradeable as their larger counterparts featuring miniaturised versions of their attacks. The eight new Mini Skylanders are as follows: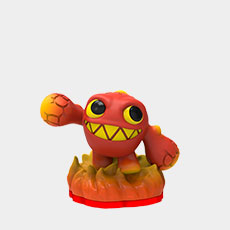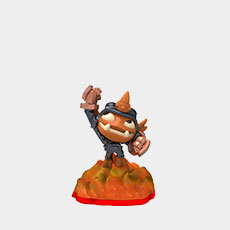 Weeruptor, Small Fry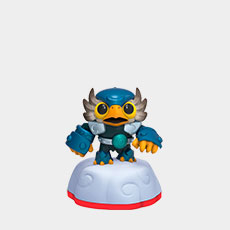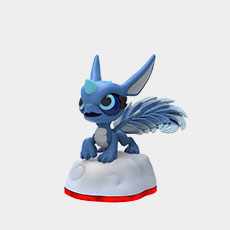 Pet-Vac, Breeze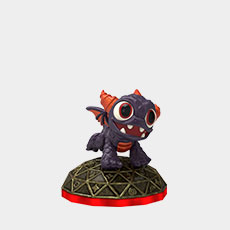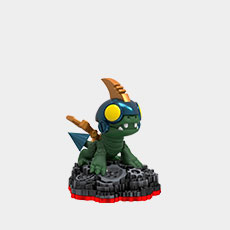 Spry, Drobit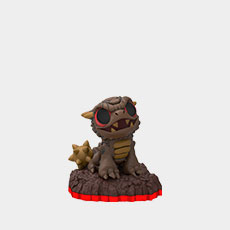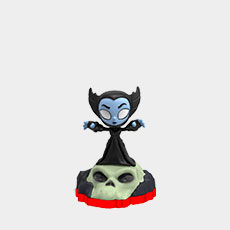 Bop, Hijinx
The eight previously released sidekicks will also be given a rerelease with a red base but your existing green and orange base versions will function exactly the same as the new ones. The Minis will be sold in double packs retailing for $13.99.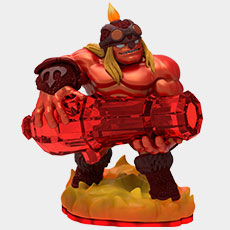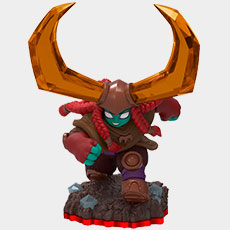 Kaboom, Head Rush
Also revealed for gamescom today was a new Fire Trap Master called Kaboom, we got a look at Head Rush's figure as well as a clearer look at Bushwhack. And couple of new villains, Masker Mind and Brawlrus, were unveiled too. Check them all out in the
gallery
and
figure list
.
9:22 PM - Tuesday the 12th of August, 2014 - by dark52
Hidden away in a
trailer
for today's
Trap Team on Tablets
news announcement was a shot of the full character poster that will be included with the regular
Skylanders: Trap Team
Starter Packs, thereby showing off a slightly blurry first look at the remaining new Trap Masters, the new Core characters, a bunch of new Sidekicks based on existing pre-Trap Team characters as well as a whole load of capturable villains.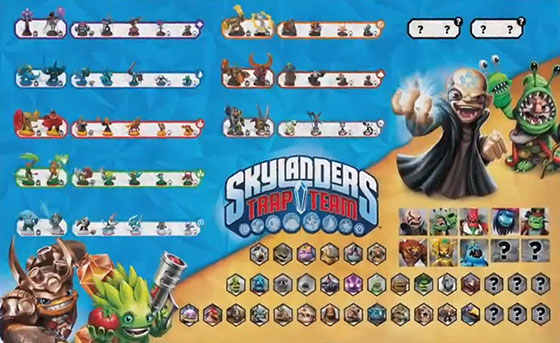 The names are not on there and there are still several secret Skylanders and villains marked on the poster so there's still a lot left to find out before the launch of the game in October. And perhaps even beyond if they intend to keep up those mystery entries.
Thanks to forum member ZapNorris for spotting the poster.
2:04 PM - Tuesday the 12th of August, 2014 - by dark52
Just announced today is a fully fledged tablet version of
Skylanders: Trap Team
, developed by Vicarious Visions the new tablet starter pack contains the same figures and traps as the regular console starter packs but it also contains a bluetooth version of the Traptanium Portal of Power and a custom bluetooth controller.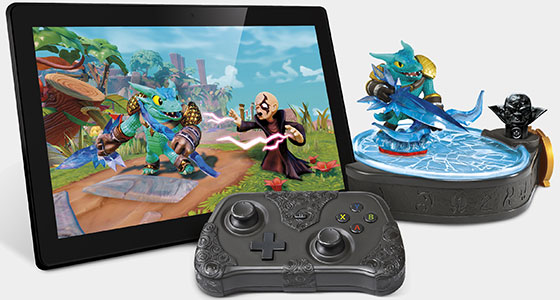 *Kaos Trap not included in Starter Pack
The game looks and plays almost exactly like the console versions but you have the option to use the included bluetooth gamepad or the touchscreen controls. To make it even more portable if you don't have the Portal of Power turned on you can use two digital "Instant" versions of Snap Shot and Food Fight to allow you to keep playing even without any toys around.
To see footage of the game in action on a tablet check out videos by
The Skylander Boy and Girl
,
FamilyGamer TV
and
Coin-op TV
.
The full list of compatible devices is as follows:
Apple iPad 3rd Generation, iPad 4th Generation, iPad Mini Retina, iPad Air

Kindle Fire HDX (7" & 8.9")

Google Nexus 7 (2013)

Samsung Galaxy Tab Pro (8.4", 10.1", 12.2")

Samsung Galaxy Tab S (8.4", 10.5")

Samsung Galaxy Note 10.1 (2014), Galaxy Note Pro 12.2

The tablet version will be released at the same time as the regular editions, October 2nd in Australia, October 5th in North America and October 10th in Europe.
4:01 PM - Sunday the 20th of July, 2014 - by dark52
Just like
last year
a brand new Dark Edition has been revealed for
Skylanders: Trap Team
. The focal points this year are the three Dark Skylanders and the "Ultimate Kaos Trap" included.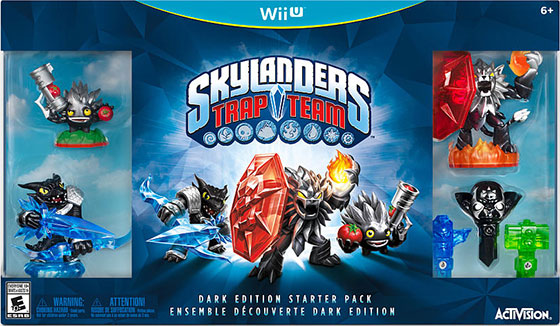 The three Dark Skylanders are "Dark Snap Shot", "Dark Food Fight" and "Dark Wildfire". The pack also contains three traps: the same two "Life Hammer" and "Water Tiki" as in the regular Starter Pack but also an "Ultimate Kaos Trap" which is needed to capture and play as Kaos himself.
Toys R Us
has the Wii U version of the Dark Edition Starter Pack listed for $99.99, which means it's $25 over the cost of the regular Starter Pack for one extra Trap Master and one extra Trap. The Dark Edition will be available for Xbox 360, Xbox One, PlayStation 3, PlayStation 4, Wii and Wii U.
8:06 PM - Saturday the 12th of July, 2014 - by dark52
A Swedish retailer has listed several new characters from
Skylanders: Trap Team
revealing some new Trap Masters, a few new core characters, more returning Skylanders and two Adventure Packs. Here are the images and names of those revealed: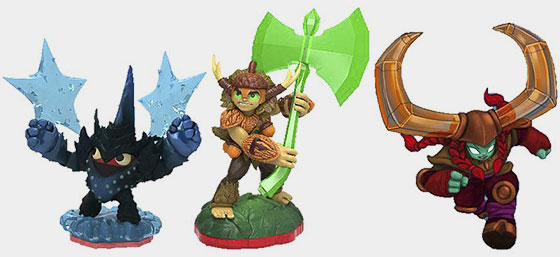 Lob Star, Bushwhack, Head Rush

Deja Vu, Blades, Fist Bump, Tread Head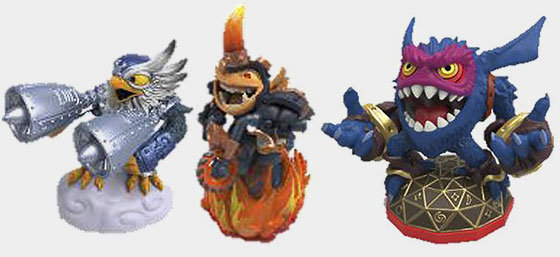 Jet-Vac, Hog Wild Fryno, Fizzy Frenzy Pop Fizz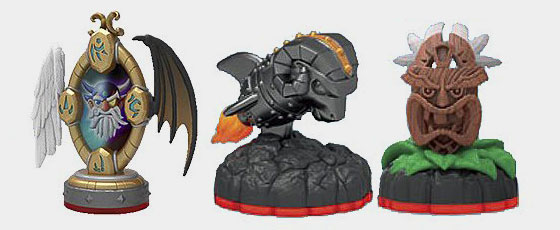 Mirror of Mystery, Rocket Ram, Tiki Speaky (with Deja Vu)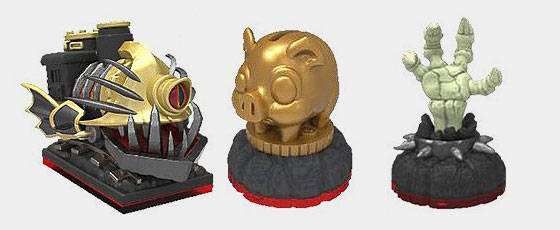 Nightmare Express, Piggy Bank, Hand of Fate (with Blades)
While a few of the images are a bit blurry they do all appear to be pretty much finalised toy designs (except for Head Rush) as compared to a
similar
listing last year which was mostly rough concept artwork. Keep in mind that as these are still early listings some characters and items may have their names and designs changed before release.
As well as the many single pack listings there are two triple packs in the leak, one containing Torch, Blades and Gill Grunt and the other with Chopper, Funny Bone and Shroomboom.
Thanks to forum member wreckingballbob and VampireCat2201 for spotting the listings.
2:45 PM - Saturday the 12th of July, 2014 - by dark52
The Comic-Con exclusive cover for issue #0 of the
upcoming
Skylanders comic-book series has been
revealed
.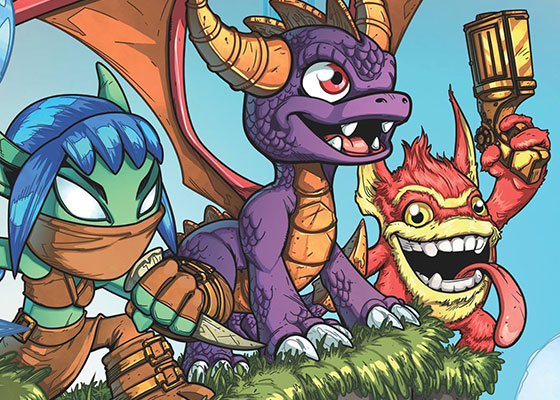 The issue will be released at San Diego Comic-Con which runs from the 24th of July to the 27th, limited to 700 copies.
Skylanders Trap Team
will also be at San Diego Comic-Con showing off the game and hosting a panel called "Skylanders: The Creative Process of Bringing Toys to Life" which will also feature a costume contest with more than $5000 in prizes to be awarded ($4000 to the winner, $1000 to the runner up and a collection of rare Skylanders toys for the 2nd runner up).
Quote: Press Release
Panel speakers include comic book writer Ron Marz (Green Lantern, DC vs. Marvel), famed voice of Kaos Richard Horvitz (Invader Zim, Billy and Mandy), Activision's Senior Vice President of Consumer Marketing, John Coyne, and Toys for Bob's Director of Toy and Character Development, I-Wei Huang.
The
panel
will be on July 24th at 6PM.
Skylanders Lost Islands
continued with June's Air theme and started an Earth theme for July.

June 9th: New Troll Lockup (200 Gems) and Golden Shear (175 Gems) upgrades and the introduction of a 5000 Kudos tier for the Molekin Market.

June 16th: Nitro Freeze Blade arrived and a new Windmill premium community building that costs 700 Gems was added.

June 23rd: Following the pattern set in May an Air Toy Link Tower that gives out gems every four hours on Air Element Days, with an initial cost of 25 Gems, was added. The Air Sanctum briefly became available to buy if you missed the quest (1200 Gems) and Buttered Pop Thorn's Hut also briefly became available through a paid gem pack.

June 30th: Kickoff Countdown was added.

July 1st: Sundae Slobber Tooth became the Wishin' Well Alter Ego for July kicking off the Earth themed month. A July 4th weekend sale temporarily had Buttered Pop Thorn's Hut on sale for 350 Gems along with various other offers and discounts.

July 7th: Doom Stone was finally added and the quest for the upgraded Earth Sanctum began.
3:14 PM - Thursday the 5th of June, 2014 - by dark52
A brand new Trap Master for
Skylanders Trap Team
has been announced, Gearshift is a Tech Skylander who uses a Traptanium gear as her weapon of choice.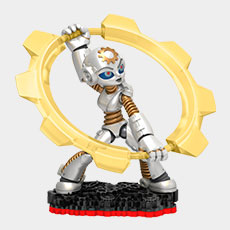 Quote: Back Story
Gearshift was created on the Tech island of Metallana by King Mercurus, who considered the young robot to be his own daughter. But rather than performing royal duties, Gearshift preferred to spend her time in the oily depths of the kingdom among its workers, secretly tending to the huge subterranean machines. When her father discovered this, he was furious - but then a squadron of Undead Stormriders suddenly attacked. Learning that these marauders wanted to capture her father, Gearshift used her knowledge of the labyrinth below to hide him. Seizing the emblem of her people - The Great Gear - she used it to fight the Stormriders, inspiring the workers to rise up. Together, they drove the Stormriders out of Metallana and saved the kingdom. For this, Gearshift was made part of the Trap Team, using her new awesome Traptanium-forged gear to help defend Skylands.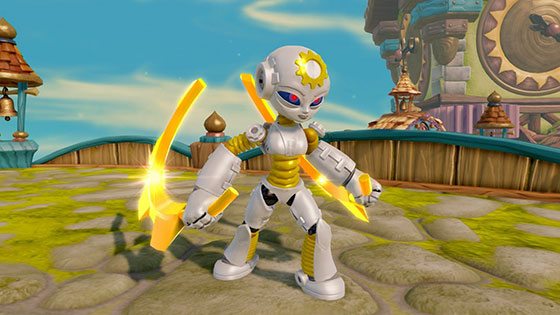 She will initially only be available at launch by pre-ordering her, you won't be able to find her on a shelf until sometime in 2015. So far only Amazon.com have put up their pre-order page, and they've priced her at $14.99.
E3 2014 is on next week (June 10th-12th) so keep an eye out for even more news and reveals soon!
Skylanders Lost Islands
has completed its Life themed month of May and kicked off June with an Air theme.



May 19th: New companion Duff who gives you a chance for trees to drop a chest when you clear them, he costs 150 Gems.

May 26th: A new Life Toy Link Tower that gives you better rewards the more Life Skylanders you have linked to the game. It costs 25 Gems and will reward you with coins or gems (on a Life day) every three hours.

June 1st: The Air themed month of June kicked off with a new Alter Ego, Buttered Pop Thorn added to the Wishin' Well.

June 2nd: A new timed quest to earn an upgrade to your Air Sanctuary, the Air Sanctum, has begun and the Bird House has made a return for the week. Two more small islands appeared, one for people with kingdoms at level 44, Chompy Island, which costs 40 million coins and one for those who've managed to reach level 45, Greeble Island, which costs 50 million.

News Calendar
Latest Page Updates