18
Category: News
1:05 PM - Thursday the 17th of February, 2005 - by dark52
Some news about the still officially unconfirmed Spyro DS game.
Spyro DS
Recently
IGN
brought to attention a certain product listed on
EBGames.com
as Spyro DS. It has since been sort of removed, but the page still remains with Spyro DS at the top.
As for what the game is,
Jeuxpo.com
has an article about Spyro DS being a Tactical RPG game, quite what that will actually mean for the gameplay I don't know. Here's a rough translation, via Babelfish, of what it actually says:
The next adventures of Spyro the Dragon will take place on Nintendo DS. However according to the first information arriving on the play, the title will not be a play of platform this time. If the kind appears still not very clear, it would seem that the gameplay title is directed towards Tactical RPG, a field where Advance Wars DS on the same machine is already awaited. Spyro DS is awaited for the end of the year.
I've no idea how credible the sources are but they might be good.
7:00 AM - Thursday the 21st of October, 2004 - by dark52
There's a little more info on the Ripto Quest game now.
Ripto Quest
Kaolink
appear to be the developers for this game and they have themselves a nice page of info and pictures on their site. Click on Mobiles and then scroll down to this box and click on it:

It appears that the story will continue right off the back of Adventure with Ripto breaking the machine that is keeping him where he is. Your task is to find all the pieces of the machine that have been scattered about, there are four pieces. You will also be needing to free fairies that have been trapped in a similar manner to Season of Ice. There's also a slightly improved version of the logo there too.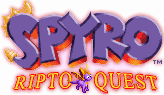 The phones that it confirms that it will work for are:
Nokia 3510i, 3520, 3530, 3560, 3586i, 3595, 8910i, 3100, 3200, 3300, 3300A, 5100, 6100, 6200, 6220, 6225, 6230, 6585, 6610, 6650, 6800, 6810, 6820, 7200, 7210, 7250, 7250I, 3600, 3650, 3660, 6600, 7650, Sharp GX10, GX20, GX30, Sagem myV-65, myV-75, myX-7, Motorola V300, V500, V520, V525, V600, Sony Ericson T610, T616, T618, Z600, T628, T630, Panasonic X60, Samsung E700, E710
Though, the screenshots shown on the site are just for Nokia 7210 & Motorola V500, and other phone's graphics will vary.
Info found thanks to Mozepy.
You may also have noticed that I've added an introduction page for Ripto Quest, the page there is rather basic at the moment and contains nothing you can't read elsewhere. However I will eventually get around to making it a more complete page full of info for this game.
7:00 AM - Tuesday the 19th of October, 2004 - by dark52
I am now starting to do random updates again, as I have a little more time on my hands and have an easier time updating the site now. While they will generally be more frequent, they won't be as large. Here's today's anyway:

Season of Flame
Again, another level completed for the guide. It's the delightful Shamrock Isle just in case you wanted to know. Overall the guide is 20% completed, not too much to go eh?

Story
I've completely re-written the Spyro Story so that it gives a much better account of what happens in the games. Be warned though as it's all one big spoiler ridden story, nothing there will spare you the plot-lines of any of the games (bar A Hero's Tail, of which the story is not currently completely known).

Character Guide
I've now completed work on preparations for the character guide and have started actually making the bulk of it. Currently through the first world of Spyro the Dragon, it all seems to be going well so far. Expect an actual release within a month or two now.

Actual News
Brand new Spyro game announced recently. It's called Spyro: Ripto Quest and will appear on mobile phones.

Ripto and his army have attacked the worlds of Ice, Grass and Fire. They've damaged the machine that protects the worlds from the diabolical Ripto. Help Spyro and Sparx recover the 4 damaged machine parts and return them to the Professor. Breathe fire, cast spells, teleport, jump and fly around 3 magical worlds and 7 levels of game play. Interact with characters along the way to find out mission objectives and battle Ripto's army of re-spawning Rhino troops.

Visit the site for that game by clicking on the image. There you'll find a few more pictures as well as a short moving video of the game in action. Apparently to be released December 2004, though GameFAQs has it being released on the 22nd of November.

And, as if by chance, there's also a brand new video trailer for the game at VUGames. Clicky here to get to it *goes to borrow some nice looking screens out of it*.
7:00 AM - Sunday the 6th of June, 2004 - by dark52
Hello and welcome to my brand new site dedicated entirely to the 'Spyro the Dragon' series of games which were originally developed by Insomniac Games. In a website of the same mould (yet slightly more purple) as
darkgta.tk
this site,
darkspyro.tk
, aims to bring the whole of the Spyro universe to one place, here.
I am currently accepting all contributions to the site as it is basically just a skeleton of what I hope to eventually turn it into. With the brand new GBA Spyro game (though arguably the second worst Spyro game ever) just released in North America and soon to be released here in Europe, and a brand new multi-format game Spyro: A Hero's Tail for PlayStation2, GameCube and X-Box set for release in November (exact date unknown to me currently) the Spyro series deserved to get it's own site from me.
This site should get a lot more attention as my other site is pretty much done until October when the main focus game gets a brand new sequel. Until then, I hope to continue working on this site and making it one of the best Spyro resources out there.
If you find that none of the links work, it may be because I am still working on the site and names of pages are bound to change a lot so try to not get annoyed with the site and just to come back later when the changes should have been implemented.
Also, just for reference, I am currently working through all of the Spyro games and writing brand new Walkthroughs for them all to go here on the site, as well as finding screenshots for the site. Currently the only game to have any content on the site so far is Attack of the Rhynocs which was the first Spyro game that I wrote a walkthrough for. For that reason, there are just plain words under all titles except the 'site' one and the Attack of the Rhynocs one. And since I am working through them in order, the next game to receive a Walkthrough will be 'Spyro the Dragon' the original Spyro game created by Insomniac Games. I hope to get this finished soon, but since I currently have exams going on it may be several weeks before any new content is made, so check back here often to see whether I have finished it up or not. I am also working on rewriting my Enter the Dragonfly guide which is still available in it's old form on the side so use that if you need to.
If you are in need of more info here are some other sites about Spyro that I have come across on my travels:
Official Spyro Site
The Spyro Universe
Spyro Hints