7:00 AM - Thursday the 21st of October, 2004 - by dark52
There's a little more info on the Ripto Quest game now.
Ripto Quest
Kaolink
appear to be the developers for this game and they have themselves a nice page of info and pictures on their site. Click on Mobiles and then scroll down to this box and click on it:

It appears that the story will continue right off the back of Adventure with Ripto breaking the machine that is keeping him where he is. Your task is to find all the pieces of the machine that have been scattered about, there are four pieces. You will also be needing to free fairies that have been trapped in a similar manner to Season of Ice. There's also a slightly improved version of the logo there too.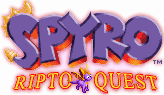 The phones that it confirms that it will work for are:
Nokia 3510i, 3520, 3530, 3560, 3586i, 3595, 8910i, 3100, 3200, 3300, 3300A, 5100, 6100, 6200, 6220, 6225, 6230, 6585, 6610, 6650, 6800, 6810, 6820, 7200, 7210, 7250, 7250I, 3600, 3650, 3660, 6600, 7650, Sharp GX10, GX20, GX30, Sagem myV-65, myV-75, myX-7, Motorola V300, V500, V520, V525, V600, Sony Ericson T610, T616, T618, Z600, T628, T630, Panasonic X60, Samsung E700, E710
Though, the screenshots shown on the site are just for Nokia 7210 & Motorola V500, and other phone's graphics will vary.
Info found thanks to Mozepy.
You may also have noticed that I've added an introduction page for Ripto Quest, the page there is rather basic at the moment and contains nothing you can't read elsewhere. However I will eventually get around to making it a more complete page full of info for this game.
Comments
This news story has been locked. No more comments can be posted.