Mobile Version
Legend of Spyro is the mobile incarnation of The Legend of Spyro: A New Beginning and was developed by The Mighty Troglodytes.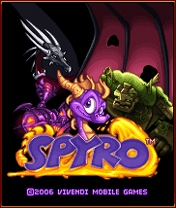 Dec 30th 2006

Oct 27th 2006
Spyro™ is back and stronger than ever!
Detailed storyline that unfolds throughout the multiple levels and boss fights
Stunning graphics and smooth animations are true to the upcoming console version
Intuitive and responsive controls for instant action and playabilty
Flight challenge levels can be unlocked and played anytime for high scores.
Experience an evolving character with abilities to acquire and enhance throughout the game.
Rich gameplay mix of platform, flight, combat and puzzle
The official website for the mobile game.
The new developer's webpage for the game.
An Italian mobile games website with the first pictures of the game.
A near identical replacement for the Vivendi page.
The first mention of the game by Vivendi.
---
Comments
All off-topic comments will be deleted. Please do not use the comments system for conversations, instead use the provided forums for the game.
Please login or register a forum account to post a comment.