Category: April Fools
12:00 AM - Wednesday the 1st of April, 2015 - by dark52
From today we here at darkSpyro are introducing a totally new way for you to help the website and in doing so bring to life many of your oft-requested features. The

dS Coin is our brand new currency that you can use to gain access to all of the newly developed features and extra customisations of your experience here on

Obviously we can't expect you to jump on board without trying a few things out first so we have given each and every one of you a
starting balance
of a whopping

1,000, enough to make hundreds of posts! You'll be able to put it towards many different things like posts, topics, titles, avatars, skins, usernames, signatures, your own personal board, and much much more!
Our
prices
start at just $5 for

500 and get more competitive the more you spend at once. Those of you who are unable to or can't afford to actually
buy
any

dS Coin you'll be excited to hear that we also offer a

Gem
conversion service
where you can transform your hard earned Gems into the brand new currency with great ease. It may take a while to build up enough

to turn into enough

to purchase the more expensive items but it will be well worth the wait when you finally get there.
Lastly, since this is just the beginning the prices are still in flux as we figure things out, while we're doing that you have our guarantee that if a price in

ds Coin goes down within 30 days of purchase we will refund you the

dS Coin difference. And, of course, if a price goes up there will be no extra charge.
11:59 PM - Wednesday the 31st of March, 2010 - by dark52
Update: April Fools! Ha hah! Can't believe you all fell for it! Now back to Spyro and a complete lack of news on anything to do with the franchise.
Just a heads up, the Pokéwalker Route
Yellow Forest
will go up today on the Nintendo WFC so access the Mystery Gift from the main menu of
HeartGold
or
SoulSilver
and you will be able to claim your new route.
Yellow Forest is a special route entirely filled with Pikachus, the main draw being those rare ones at the high end of the step count (10,000+ and even then still rare) which have Fly or Surf.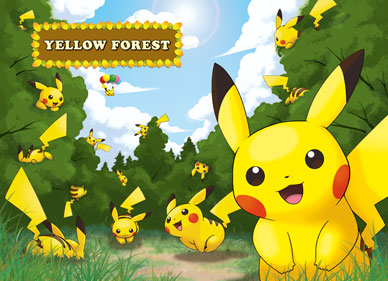 Quote: Nintendo
Download a new Route for your Pokéwalker! The aptly named Yellow Forest is a Pokéwalker Route that is full of Pikachu! While you're exploring the Yellow Forest, you might even come across Pikachu that have special moves. The only way you can get the Yellow Forest Route is via a special distribution!
The route will only be available for download until the 5th of May so don't forget!
1:30 AM - Saturday the 1st of April, 2006 - by dark52
This was an April Fools by the way...

It's been a long two years but I'm afraid this is the end for darkSpyro. I just can't see Spyro going anywhere, and that's why I welcome you to my brand new replacement website darkCrash. Without the four legged limitations of a dragon, this orange marsupial has a lot of room left to grow and improve. Whilst the sections are barebones at the moment that's something I'll be working on over the next few weeks.

Sorry for any inconvenience if you were expecting a Spyro the Dragon fansite, and hopefully there won't be any residual problems left over from the Spyro days, which I hope we can all now just forget as Crash is the only one with a real future.