Category: Reignited Trilogy
5:05 PM - Tuesday the 11th of June, 2019 - by dark52
In today's E3 Nintendo Direct it was very briefly revealed that the
Spyro: Reignited Trilogy
will indeed be releasing on the Nintendo Switch at long last, due on the 3rd of September the game will also be releasing on Steam at the same time.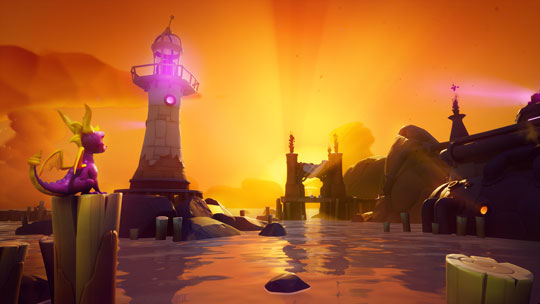 It was also announced today that Spyro will be a playable driver in the upcoming
Crash Team Racing: Nitro-Fueled
. He won't be available at launch but will instead be unlocked in a free, post launch, Grand Prix event.
And in some
Spyro: Enter the Dragonfly
news,
LXShadow
recently discovered a couple of brand new
cheat codes
for the game including one that makes the game really slow!
4:54 PM - Tuesday the 12th of March, 2019 - by dark52
A patch was released today for the
Spyro Reignited Trilogy
which addressed several major requests for additions or changes. Most notably it has added subtitles to the areas of the games that didn't have them, added a toggle for motion blur, and reportedly fixed several progression blocking bugs.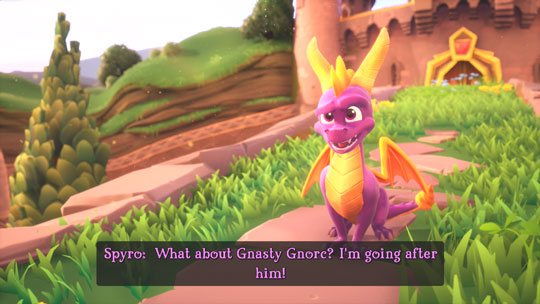 The full patch notes are as follows:
Quote: Activision Support
SUBTITLES



Added subtitles in all languages (across all three games) for previously unsupported cinematics, including:

Character headers to identify active speakers

Succinct line splits for readability

Colored text for improved character association in most languages

Subtitle on/off toggle added under the Options menu

MOTION BLUR

Added an option to toggle motion blur on/off under the Options → Camera menu

BUG FIXES

Fixed progression and completion bugs impacting Wizard Peak, Hurricos, Fracture Hills, Lost Fleet, Fireworks Factory, and Charmed Ridge

Fixed camera bugs in Sgt. Byrd's Base and Dino Mines

Stability improvement fix in Spider Town

Additional misc. bug-fixes and improvements impacting Glimmer and Ripto's Arena
1:48 AM - Wednesday the 14th of November, 2018 - by dark52
5:45 PM - Monday the 12th of November, 2018 - by dark52
The reviews have started to roll in so here we go once again with the round-up for the
Spyro Reignited Trilogy
. The reviews all seem to be generally positive with praise for the collection's updated graphics and quality of life improvements but do call the game out for issues with camera controls as well as other general criticisms of the core gameplay that also apply to the originals.
Quote: Glitched Africa - 9.8/10
Everything in Spyro Reignited Trilogy just works. Toys for Bob took the original games and made them from scratch without changing anything but the visuals and you would never believe that the core of the experience is over twenty years old now.
Quote: Gamereactor - 9/10
Everything from the individual blades of grass that singe when you breathe fire, the lighting as the sun beats down on Cliff Town from the first game, to Spyro's own facial animations is smooth and polished, so much so that it really feels like a game made for 2018.
Quote: PlayStation Lifestyle - 9/10
Many video games don't age well, but Spyro Reignited Trilogy feels like the game didn't age at all. Toys for Bob applied the fountain of youth to a 20-year old series, and the little purple dragon is just as perky and fired up as ever.
Quote: Press Start - 9/10
Visually the game is absolutely stunning – the level of detail in each world looks as good as my imagination saw it as a child. The colours are vibrant and vivid, and gone are the jagged polygons that were once buildings; it is here we can see that the games have come a long way.
Quote: Hardcore Gamer - 4.5/5
The Spyro games were legitimately great for the time, though, and thanks to an near-perfect balance between preservation and updating, Spyro Reignited Trilogy is every bit as excellent by today's standards.
Quote: Venture Beat - 88/100
Similar to what the Crash Bandicoot: N. Sane Trilogy did last year with its trio of PlayStation classics, Reignited Trilogy makes Spyro look modern without abandoning the tone and style of the originals.
Quote: Game Informer - 8.5/10
Given just how different the worlds look in remastered form, I found this trilogy to be more interesting and enjoyable to return to than Crash's. These games don't preserve history as well, but that's okay. Having already lived through them, it's fascinating to see how the worlds have been reimagined and differ from the vision I had in my head.
Quote: IGN - 8.5/10
Toys for Bob has nailed the feel of controlling Spyro. He leaps, glides, and charges with the momentum I remember, but with much more adorable animations.
Quote: God is a Geek - 8/10
Whether you played it back in the 90s or are trying it out for the first time, Spyro Reignited Trilogy is a laidback platformer that offers plenty of hours of gameplay and a humour that's relatable to kids and adults alike.
Quote: The Sixth Axis - 8/10
As a package, Spyro Reignited is a fantastic experience, and Toys for Bob have done an amazing job in updating the series whilst maintaining its feel. This truly is a Spyro for today rather than a quick cash-in that plays off your nostalgia.
Quote: Critical Hit - 7.5/10
This easy platformer is as charming and engaging as ever, with its slapstick humour, colourful worlds and improving level and objective designs. But it's the smaller details that let it down, with persistently troublesome camera controls in some stages and some jarring audio implementations in others.
Quote: Sirus Gaming - 7/10
Despite the new look and personality that Unreal Engine 4 is able to give the game, it isn't without its flaws. For one, the character details, mainly for the supporting cast, can at times look a bit smudged and plastic-like.
The game is out on Tuesday the 13th of November worldwide on PlayStation 4 and Xbox One.
3:12 PM - Tuesday the 23rd of October, 2018 - by dark52
We're just three weeks away from the launch of the
Spyro Reignited Trilogy
on November the 13th and they've released a brand new trailer to show off more of the games:
9:37 AM - Friday the 17th of August, 2018 - by dark52
In a message on the official
Activision Blog
, Paul Yan of Toys for Bob has confirmed that the release of the
Spyro Reignited Trilogy
has been delayed by two months to November 13th.
Quote: Paul Yan
Everyone here at Toys for Bob is so proud to be reigniting the original Spyro trilogy after all these years. We're deeply committed to getting these games right, so we've decided to move the release date of Spyro Reignited Trilogy to November 13, 2018. I really hoped that you would be rescuing dragons and scorching Rhynocs sooner, but the Trilogy needs more love and care. In November when you're exploring the Dragon Realms, Avalar and the Forgotten Worlds, we know you'll agree the extra time was worth the wait.
In the meantime we'll be getting our first proper look at the
Year of the Dragon
remaster in action next week as they're taking a playable demo featuring it to
Gamescom
(August 21-25).
6:33 PM - Monday the 30th of July, 2018 - by dark52
In case you somehow weren't able to make it out to the San Diego Comic Con panel that was held a couple of weeks back, the official Spyro Youtube channel has uploaded the entire hour long event for you to watch.
It features a massive panel of nine people who were either involved with the original game or are taking part in the remake.
10:17 PM - Wednesday the 11th of July, 2018 - by dark52
PlayStation Underground today posted a lengthy look at the Spyro 2 level Idol Springs, marking our first real look at the second game in the
Spyro Reignited Trilogy
.
They're joined by Peter Kavic, Nick Livingston, and Josh Nadelberg from Toys for Bob so there's plenty to hear too.
4:35 PM - Wednesday the 13th of June, 2018 - by dark52
Just before the beta is due to start the first trailer for the mobile game
Skylanders Ring of Heroes
has been added to the game's
official website
:
It starts off with some pre-rendered cutscenes of a few Skylanders in their Awakened forms before showing a bit of the actual gameplay.
The video's description on Youtube also offers some details on the game:
Quote:
Reassemble the Squad.

Master your Skills. Awaken your Champion.

The ALL-NEW Skylanders mobile RPG is finally here.

Join Spyro, Stealth Elf, and many more of your favorite Skylanders in this epic adventure of Skylanders Ring of Heroes.

Build the ultimate Skylanders team.

Collect from more than 60+ Skylanders.

Level up, evolve, and awaken your Skylanders to make them stronger than ever before.

Equip your Skylanders with up to 10 magical Rune abilities.

Summon Skylanders and Villains alike to fight by your side


Become the #1 champion.

Mix and match Skylanders with unique skills and abilities to create the ultimate team.

Time your attacks and use mana wisely to overcome your enemies.

Knock down your enemies defenseless, use elements to your advantage, trigger the status effects.

Intuitive game play for on-the-go: just tap on skills and your Skylanders are ready to fight.

Test your strength against Portal Masters from all over the world.


Watch the Skylands come to life.

Experience the rich and colorful world of Skylanders.

Reimagine Skylands and give it your personal touch.

And while there's been no major announcements about the
Spyro Reignited Trilogy
the game is at E3 and has a playable demo there featuring the levels Toasty and Tree Tops so there's
a lot
of
new
footage
of
them
on
Youtube
. And there's a whole load of new screenshots and pieces of concept art in our
Spyro Reignited Trilogy Gallery
.
3:42 PM - Thursday the 5th of April, 2018 - by dark52
Along with the official announcement of the game comes the first trailer:
You can apparently also view it in the Crash Bandicoot N-Sane Trilogy using the old Spyro demo secret code (Up, Up, Down, Down, Left, Right, Left, Right, Square) on the Crash 3 title screen but that hasn't worked for me just yet.
The fact sheet confirms more details:
Quote: Fact Sheet
In Spyro Reignited Trilogy, gliding through the sky and flaring up bad guys is more fun on PlayStation® 4, PlayStation® 4 Pro and the family of Xbox One devices from Microsoft, including the Xbox One X. Spyro Reignited Trilogy launches on September 21, just in time to celebrate the 20th anniversary of the beloved purple dragon.

Gnostalgia n' More - This is the Spyro with swagger and personality that fans remember from their childhood. Returned and remastered Orb Challenges, mini-games and more make this an epic trilogy for the diehard Spyro-maniacs!

So Fly - The game collection is stunning, lush, and fiery! The Spyro Reignited Trilogy introduces players to a completely remastered game collection with a re-imagined cast of characters, brand-new lighting, animations, environments, and recreated cinematics - all in stunning HD.

Fresh Controls, Original Adventure - The trilogy breaks free from the gameplay chains of the '90s with updated controls, dramatically silky-smooth game camera handling, and full analog stick support for added flavor in this one-of-a-kind adventure.

Did You Hear That? - Fans of the Spyro games may recognize some familiar sounds in Spyro Reignited Trilogy. Tom Kenny, the original voice actor in Spyro 2: Ripto's Rage!, and Spyro: Year of the Dragon and fan-favorite reprises his role as the voice of Spyro. The new collection also re-imagines Stewart Copeland's original soundtrack from the first three games.
Even more screenshots have been added to the
Gallery
. And of course don't forget to join in the discussion in the
forums
.
11:09 AM - Thursday the 5th of April, 2018 - by dark52
After a long wait the remake of the original trilogy that we all knew was coming has been revealed as the Spyro Reignited Trilogy. Thanks to
Amazon Mexico
we now know that the game is coming to the PlayStation 4 on September 21st and will indeed be a remaster of Spyro the Dragon, Spyro 2: Ripto's Rage!, and Spyro: Year of the Dragon.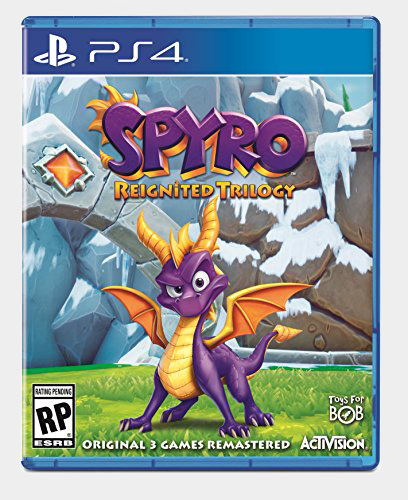 Keep in mind that the Crash Bandicoot N-Sane Trilogy had a placeholder boxart when it was announced so this is likely not the finalised boxart.
Amazon India
also has an Xbox One version listed with the same release date along with a bunch of screenshots from the first game in the trilogy, including this direct comparison:
While we wait for the actual official announcement you can check out more of the images in the
gallery
or get talking about the game in the
forums
.