9:10 PM - Thursday the 18th of February, 2021 - by dark52
Following his tease in last week's Episode Dungeon, Flameslinger is now available to own in
Skylanders Ring of Heroes
.

As usual since he's a Legendary he's only available to get through his special "Pickup Summon" event and for the time being is not available through the regular random summons. But thanks to some unscheduled maintenance today you get 30 free tries to get him.
10:49 PM - Thursday the 21st of January, 2021 - by dark52
Today's update for
Skylanders: Ring of Heroes
added two new Skylanders: Smash Hit from SuperChargers and Scratch from Swap Force.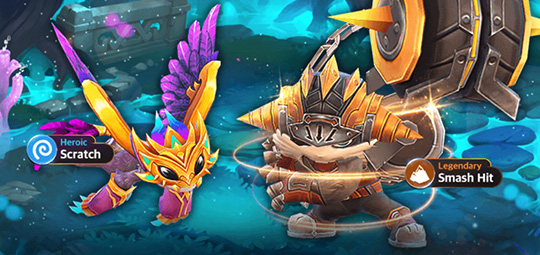 Smash Hit is presented as a Legendary Skylander who specialises in Area of Effect attacks and Scratch is a Heroic Skylander who attacks multiple times.
As a new Legendary Skylander you will initially only be able to get Smash Hit from his special event summons but Scratch is immediately available through all the different summon types.