Category: Skylanders Giants
12:38 AM - Wednesday the 27th of February, 2013 - by dark52
Despite the wording of a press release for the
event
in New York that took place earlier this month, it seems that Ninjini is about to hit retail already. Lots of
forum members
have been reporting getting confirmation from Toys R Us stores in the US that she will start to be released there as early as tomorrow.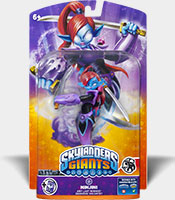 12:57 PM - Thursday the 21st of February, 2013 - by dark52
The yellow version of Hot Dog appears to have begun hitting the shelves of Walmart according to reports from
forum
members of sightings of the exclusive Molten Hot Dog in a few stores.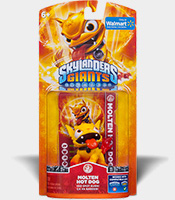 Molten Hot Dog is much like the regular Hot Dog that you can already find in the Scorpion Striker Battle Pack, except his colours are switched around being red where he was yellow and yellow where he was red. He is an in-game variant much like Granite Crusher, Punch Pop Fizz and Gnarly Tree Rex so he will appear that way in-game. In the United States he will be exclusive to Walmart, exclusivity arrangements in other countries are unknown at this time.
And recently the Legendary LightCore Chill toy has begun showing up in Canadian Toys R Us stores, if it follows the pattern of the previous post-launch Legendaries it shouldn't be too much longer before she is available in further countries. Being a Legendary she is of course an exclusive to Toys R Us.
12:19 PM - Friday the 1st of February, 2013 - by dark52
To help heighten the visible interest in Skylanders just before Toy Fair 2013 (and the likely reveal of the next game), Activision and Toys R Us are set to hold an event in Toys R Us Times Square where they will give an "opportunity to receive" a Ninjini figure to the "first fans to line up".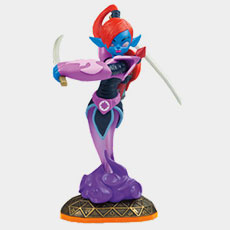 This is all happening next week, on Tuesday the 5th of February at 4PM (make sure to get there earlier). There are also other exclusive savings on offer just in case you don't happen to be lucky enough for the Ninjini.
And, more importantly to those of us who won't be able to make it, the press release says that it'll be "months" before Ninjini will hit retail shelves, so it looks like it's time to get waiting all over again.
Full details of the event are in the press release below:
Quote:
CALLING YOUNG PORTAL MASTERS:
CELEBRATE NEW YORK TOY FAIR WITH SKYLANDERS GIANTS™

TOYS"R"US TIMES SQUARE INVITES KIDS TO BE AMONG THE FIRST IN THE WORLD TO RECEIVE A COMPLIMENTARY, HOTLY ANTICIPATED SKYLANDERS GIANTS CHARACTER, NINJINI

WHAT: Months before the Skylanders Giants character, Ninjini, hits retail shelves, kids and their families are invited to The World's Greatest Toy Store™ to be among the first in the world to get their hands on the must-have Skylanders Giants character, while supplies last. To celebrate the annual International Toy Fair taking place in New York City this month, Activision Publishing Inc. and Toys"R"Us are partnering to host a special event at Toys"R"Us Times Square, the company's international flagship store. The first fans to line up along Broadway for the event will have an opportunity to receive a complimentary Ninjini figure before it is officially available for purchase in North America.

Consumers can take advantage of one-day exclusive, Toys"R"Us Times Square store offers: $25 off Skylanders Giants Starter Pack; "buy 2, get 1 free" Giant Skylanders figures until store closing.
Also at the event, kids will have the unique opportunity to meet their favorite Skylanders characters, experience the year's most popular game at in-store game kiosks and receive other fun Skylanders Giants giveaways.
WHEN: Tuesday, February 5
Activities and giveaways begin promptly 4pm
Toys"R"Us Times Square will be open during normal business hours (10am - 10pm)
WHERE: 1514 Broadway at 44th Street
New York, NY
(Media must enter through the 44th Street Associate Entrance)

ACTIVITIES: Gaming kiosks, displays and stations
Fun activities, games, giveaways and more!

MEDIA OPPORUNITIES:
• Visuals/interviews with excited kids and fans in line
• Costumed characters, fun activities and live giveaways
• Calendar and event listings as a fun activity for families
• Attend with your kids
1:08 AM - Saturday the 12th of January, 2013 - by dark52
Two brand new Giants are now in what is still being classed as Wave 3 of
Skylanders: Giants
, so in the United States you should soon be able to find Thumpback and Eye-Brawl.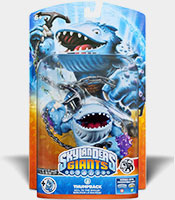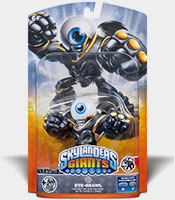 There are also some brand new Triple Packs being released, however they're all Series 2 Skylanders that have already been available in singles. One pack has Eruptor, Stealth Elf, and Terrafin. The other has Prism Break, Lightning Rod, and Drill Sergeant.
The last of the Legendary Skylanders, Legendary LightCore Chill, is also apparently scheduled soon for release at Toys R Us but as of yet has not been spotted.
And finally, as well as the release of Hot Dog in the Battle Pack, for a short time at GameStop you will be able to get the Sidekicks from
Skylanders: Spyro's Adventure
(that's Whisper Elf, Terrabite, Gill Runt, and Trigger Snappy), supposedly through a spend $30 promotion but people have reported being able to just buy them outright. Stocks may not last long either way.
12:47 PM - Thursday the 20th of December, 2012 - by dark52
Just in time for a last minute dash before Christmas, the release of the third wave of
Skylanders: Giants
toys is imminent in the United States. Unfortunately it doesn't actually appear to have any brand new characters unless you skipped the first Battle Pack.
What it does have is the LightCore version of Shroomboom, a single pack release of Series 2 Cynder, the regular Series 2 releases of Eruptor and Prism Break (they're not LightCore so they do have their Wow Pows this time), the regular Series 2 Stealth Elf and the debut of a Series 2 Lightning Rod.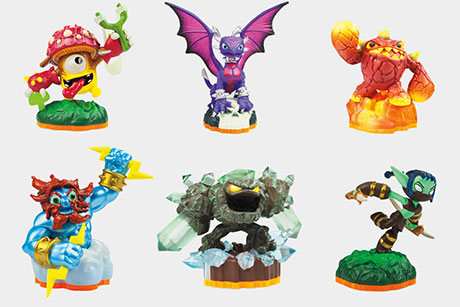 And, according to advertisements, January 9th is when the Scorpion Striker Battle Pack with Hot Dog (and Series 2 Zap) is released. In the US it will be a one month exclusive for GameStop before becoming available at other retailers too.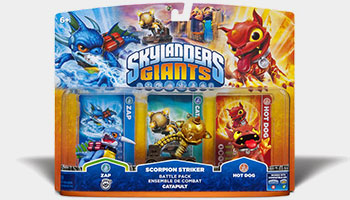 9:57 PM - Monday the 22nd of October, 2012 - by dark52
Now that
Skylanders: Giants
has been released I have begun writing my
Skylanders Giants Walkthrough
. So far the first five chapters have been covered to help you find all those missing items and collectables.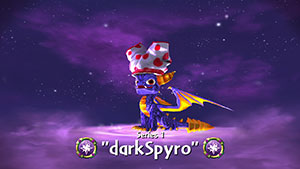 More will be posted each day so it should be complete very soon.
4:25 PM - Thursday the 20th of September, 2012 - by dark52
With about a month to go, the official
Skylanders: Giants
website
has been updated with videos and screenshots all of the brand new characters as well as all of the reposed old characters. You can also find all of the new origin stories to learn a little more about the new additions before deciding which ones to buy in the future.
It also reveals several new versions of some of the characters, like the new Legendary editions of Slam Bam, Ignitor, Jet-Vac, Stealth Elf, Chill, and Bouncer as well as different looking skins for a few more both new and old.
1:22 AM - Thursday the 30th of August, 2012 - by dark52
And finally after months of teasing, the last remaining new Skylander characters for
Skylanders: Giants
have been revealed. Thanks to wescade on
JeuxVideo
we now have clearer, high resolution images of all the new Giants and Skylanders as well as all of the Series 2 reposes and the LightCores.
For the Giants we have: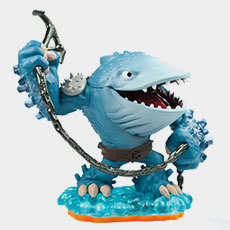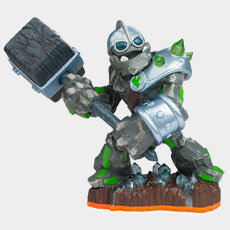 Thumpback, Crusher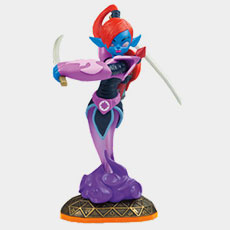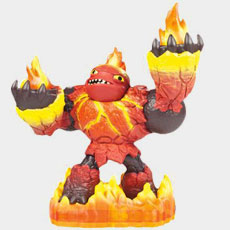 Ninjini, Hot Head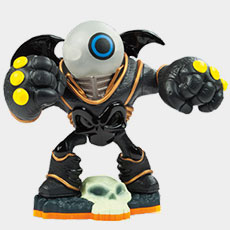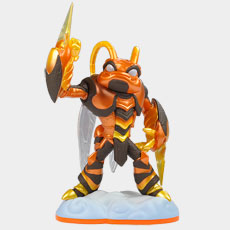 Eye-Brawl, Swarm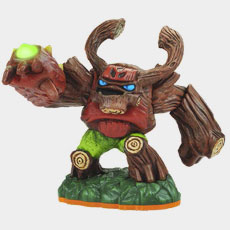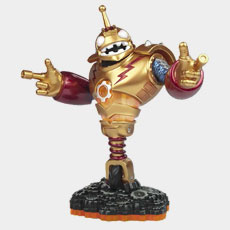 Tree Rex, Bouncer
And for new the regular sized Skylanders: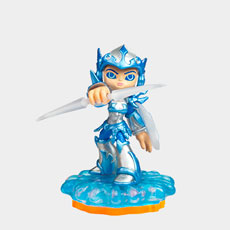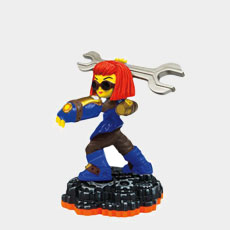 Chill, Sprocket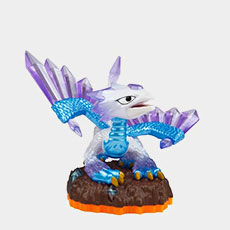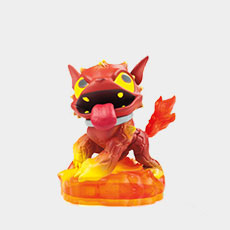 Flashwing, Hot Dog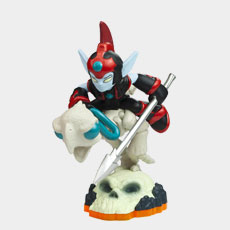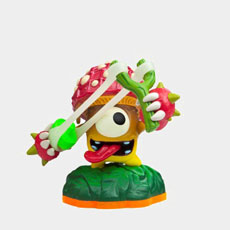 Fright Rider, Shroomboom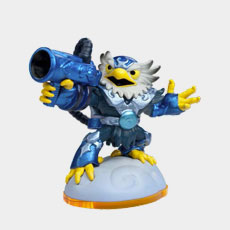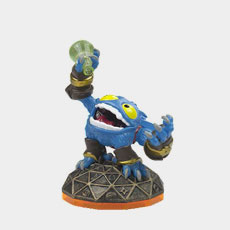 Jet-Vac, Pop Fizz
You can check out the full sized photos of the poster to see the reposed originals as well as the LightCore poses.
Water+Tech
,
Earth+Magic
,
Fire+Undead
,
Life+Air
.
In other Giants news, the full list of
Xbox 360 Achievements
was recently posted so you can get an idea of what you'll be doing in the final game.
4:42 PM - Wednesday the 8th of August, 2012 - by dark52
It looks like Activision are once again taking the Skylanders on a tour of Europe. It apparently starts this Saturday, the 11th of August, in the Birmingham Bullring. Further dates and locations are detailed below.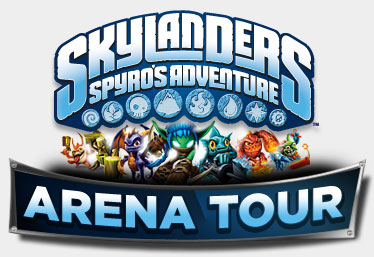 Quote: Toy World
The tour will offer fans multiple ways to get to know their favourite Skylanders, and a first look at Skylanders Giants, the new addition to the franchise set to come to homes this Autumn.

The Skylanders Spyro's Adventure Arena Tour kicks off in the UK on Saturday 11th August, making a first appearance at Birmingham's Bullring Centre before heading down to London for family festival LolliBop from 17-19th August. It will then travel to the Destination Jeux festival in France (22nd-23rd August), Breman and Centro in Germany (25th August and 31st/1st September), Stockholm (7-8th September), Milan (15-16th September), Madrid (22nd-23rd September), and Paris (29th September), before a final stopover in the Netherlands (6-7th October).

All of the Skylanders Spyro's Adventure Tour arenas will offer fans multiple gameplay opportunities, as well as a wealth of other interactive and entertaining activities.
See the
official website
for more details as well as a few games to play.
5:38 PM - Wednesday the 6th of June, 2012 - by dark52
Hopefully you'll all have been following the discussion in the
Skylanders: Giants
forum but if not then never fear, here is a roundup of some of the new videos and information for the upcoming game.
First up is the game's latest trailer, this features four brand new Skylanders (Jet-Vac, Pop Fizz, Tree Rex, Bouncer) and showcases a whole selection of others in a brief glimpse at the end.
Then we have loads of interviews with folk from Toys for Bob.
G4TV
has one,
Coin-op TV
did one, then there's one from
ClevverGames
, another by
Machinima
and one more on
ScrewAttack
.
For gameplay GameSpot have a vignette for the new Tech Giant
Bouncer
and XGNEntertainment have one for the Life Giant
Tree Rex
. Coin-op TV
demonstrate
a few of Tree Rex's moves and
FanBoltGaming
have posted almost ten minutes of a level playing as several different characters throughout.
Wired
too get their hands on the giants to play with for a short while. And the official Skylanders Facebook account has some exclusive
gameplay
footage too.
One of Swords
brings a bit more info too, one thing is that the developer for the 3DS version appears to have switched from Vicarious Visions to
n-Space
. He also posted the prices for the Starter Pack ($74.99), the Portal Owner Pack ($59.99), a Giant ($14.99), a LightCore Skylander ($11.99), and a standard Skylander ($9.99).
The main four new Skylanders featured at E3 were: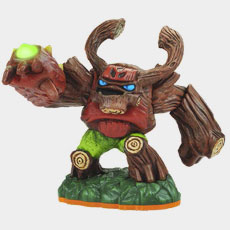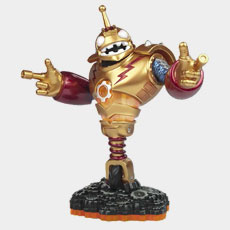 Tree Rex, Bouncer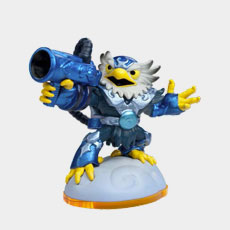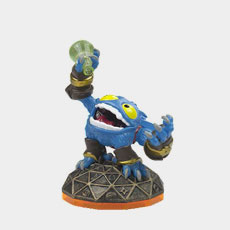 Jet-Vac, Pop Fizz
You can see some screenshots of them in the
gallery
. A few other Skylanders have also made an appearance at E3 including an Earth Giant named
Crusher
and a Life Skylander called
Shroomboom
.
Your original toys from
Skylanders: Spyro's Adventure
will be able to level up to the new cap of 15 in Giants but only the new reposed "Series 2" versions with an orange base will be able to make use of their new "Wow Pow" powers.
The game is due out this October on the Wii, Xbox 360, PlayStation 3 and 3DS.
Oh and it's also the eighth anniversary of darkSpyro today, so yay for that.
9:11 PM - Thursday the 31st of May, 2012 - by dark52
I forgot to post it before but I recently completed my walkthrough to the console version of
Skylanders: Spyro's Adventure
with the expansion level
Dragon's Peak
. I have also now finished off the
3DS
guide to the same adventure pack.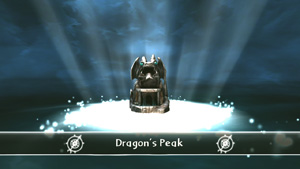 And with E3 2012 just next week (June 5th-7th), expect news about the upcoming sequel,
Skylanders: Giants
, some time soon.
3:26 PM - Tuesday the 7th of February, 2012 - by dark52
The Wall Street Journal
has the first details of the newly announced sequel;
Skylanders Giants
. Set to be released this Autumn the game will add eight new toys that are said to be more than twice the size of the original characters as well as eight more normal sized Skylanders.
Activision will debut the new game at the International Toy Fair that runs February 12th-15th, just like they did with
Skylanders: Spyro's Adventure
last year.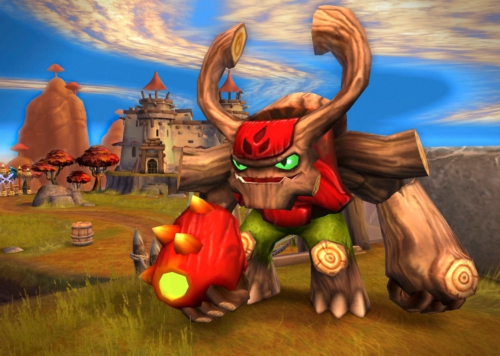 See
Kotaku
for more images of the game.
They have also confirmed that all of the current Skylanders will work just fine with the sequel, so you'll have plenty of time to stock up and prepare to continue your adventures.
Until then we've still got Camo, Legendary Trigger Happy, Lightning Rod, Sunburn, Warnado, Wham-Shell, and Zook to even be released.