The Games
The Games
Below are links to all of the Spyro games sections on this website, organised by release date.
Other Games
There have been many 'other' Spyro games, some merely Flash mini-games with a small task, while others have been near fully fledged adventures.
Movies (Cancelled)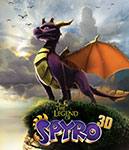 ---
Comments
All off-topic comments will be deleted. Please do not use the comments system for conversations, instead use the provided forums for the game.
Please login or register a forum account to post a comment.