Spyro the Dragon
Another game in the ever expanding Spyro series of games. His third outing on the Mobile Phone, this game is mostly based off the Nintendo DS Spyro game 'Spyro: Shadow Legacy' employing a similar graphical tone and gameplay objectives.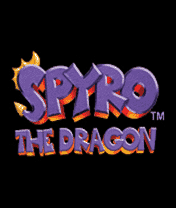 November 8th 2005
Story
A powerful, evil sorcerer has captured all the Dragons. What a disaster, everyone has disappeared! Spyro, your friends are counting on you becoming a true kata master and free the Dragons!
Intro
Despite using the original game's name, this 'Spyro the Dragon' is not a portable version of that game. This one is a 2D platformer with the tiniest hint of RPG in there from the DS game. The main aim of the game is to free all of the Dragon Elders that have been trapped in the Shadow dimension by an evil wizard.
Each level has two version of itself, a normal (Material) version and a shadow version. Swapping between the two allows you to advance past obstacles that are there on one but not the other. As might be expected, the shadow realm is a lot darker then the material one and the enemies there are a lot weirder then the ones you meet in the material realm.
Spyro has three different types of move, one for attacking in the normal realm, one for attacking in the shadow realm and one for smashing stuff. To 'level-up' your moves you need to collect 25 of the corresponding gem colour to a maximum of level 3 on each.
Kata
Charge
Can smash vases
Can smash yellow chests
Can smash blue chests
Chi
Can kill armadillo like things in one hit
Nothing new really
Can kill those floaty things in one hit
Tail
Can kill crabs in one hit
Can kill wasps in one hit
Nothing new
Controls
| Button | Action |
| --- | --- |
| 4,6 | Move |
| 1, 2, 3 | Jump |
| 5 | Action |
| * | Change current kata or confirm |
| # | Pause |
---
Comments
All off-topic comments will be deleted. Please do not use the comments system for conversations, instead use the provided forums for the game.
Please login or register a forum account to post a comment.