Other Games

Skylanders: Lost Islands
Skylanders: Lost Islands
An iOS/Android town management game based on the Skylanders series, it was released during Skylanders: Giants promotions but continued to be supported through Skylanders: Swap Force and Skylanders: Trap Team with new characters and content.
Online support for the game was stopped on November 1st 2017, the game became unplayable if you had not already installed it.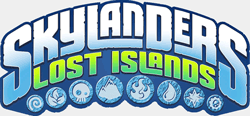 November 8th, 2012
Story
The war with Kaos has destroyed many Mabu villages, you are tasked by Master Eon to build a new Mabu kingdom of your own on the Lost Islands. The game's app store description goes as follows:
Capture Evil. Unleash Good.

Play for FREE as you explore the Skylands, build your own kingdom and embark on incredible quests with your Skylanders in this amazing new adventure.

More than a simple "builder" game, Skylanders Lost Islands is all about collecting and evolving your collection of Skylanders. As you progress, build up your islands to unlock Skylanders and then send them on exciting quests and adventures to increase their rank. What's more, bring your physical Skylanders figures into the game! Unlock them and add them to your in-game collection for even more adventuring fun!
Characters
You can use all of your Skylanders up to Trap Team, you can unlock them through in-game means, using their web codes, or using the bluetooth Portal of Power that came with Skylanders Battlegrounds.
There were also brand new alter egos for several Skylanders that were only available in this game:
Magic

Hoppity Pop Fizz
April 2013
Buddy Wrecking Ball
May 2013
Mystic Star Strike
September 2014
Charming Cobra Cadabra
February 2015

Water

Surfer Slam Bam
June 2013
Admiral Thumpback
September 2013
Holiday Wash Buckler
December 2013
Merry Snap Shot
December 2014

Earth

Birthday Bash
November 2013
Sundae Slobber Tooth
July 2014
Rocky Egg Roll
April 2015

Undead

Grill Master Chop Chop
August 2013
Skeletal Cynder
October 2013
Snowler Brawl
December 2013
Hallows' Eve Hex
October 2014
Fortune Funny Bone
March 2015

Fire

Cupid Flameslinger
February 2013
Flip Flop Fryno
August 2014

Air

Buttered Pop Thorn
June 2014
Gourmet Gusto
May 2015

Tech

Lucky Boomer
March 2013
New Year's Countdown
January 2014
Knockout Jawbreaker
November 2014

Life

Fireworks Zook
July 2013
Autumn Stump Smash
September 2013
Builda Grilla Drilla
May 2014
Frosted Food Fight
October 2014
---
Comments

All off-topic comments will be deleted. Please do not use the comments system for conversations, instead use the provided forums for the game.
Please login or register a forum account to post a comment.