Category: Dawn of the Dragon
12:57 PM - Monday the 28th of April, 2008 - by dark52
After ticking down for the past few days the countdown on
Spyro's Lair
has reached zero. And with impeccable timing nothing happened. UPDATE: Several hours later and here it is: the
minisite
for
The Legend of Spyro: Dawn of the Dragon
.
Developed by newcomers to the series, Etranges Libellules and Tantalus Interactive (DS version), the game appears to be taking a much more realistic look after the previous two Legend of Spyro games. The game is due to appear on Xbox 360, PlayStation 3, Wii, PlayStation 2 and Nintendo DS this October.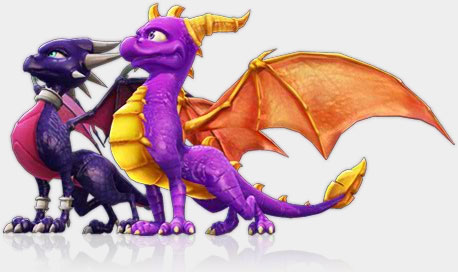 The minisite for Dawn of the Dragon is up and running with the official Press Release, five screenshots and five pieces of Concept Art. You can also see those images in our
gallery
.
10:41 AM - Monday the 28th of April, 2008 - by dark52
The first 18 images from
The Legend of Spyro: Dawn of the Dragon
have appeared on
IGN
. As they're from the Xbox 360 version, they're quite big. They also confirm all the information from ToTheGame, right down to the typo in Spyro's name.
See also
Kotaku
for DS screens.
Thanks go to Spyro Technics for spotting them on IGN.
9:34 AM - Sunday the 27th of April, 2008 - by dark52
Confirmation of the
information
from tothegame has appeared in Sierra's own
news section
.
Quote: Sierra
SPYRO THE DRAGON CONTINUES HIS EPIC ADVENTURE THIS FALL IN THE LEGEND OF SPYRO: DAWN OF THE DRAGON
Spyro Trilogy Culminates with Premiere on Xbox 360 and PlayStation 3 system; Elijah Wood, Gary Oldman, Christina Ricci, Blair Underwood, Wayne Brady and Mark Hamill Provide Voice-Over Performances
Thanks go to Twilight for the find.
9:35 PM - Friday the 25th of April, 2008 - by dark52
Recently
SpyroWorld
spotted that a website called tothegame had posted pages for a game called
The Legend of Spyro: Dawn of the Dragon
. tothegame at the same time had pages for a Crash Bandicoot game entitled
Crash Bandicoot: Mind over Mutant
, this name has turned out to be accurate... so could the Spyro name (and info) be correct too?
They had the same information from the
Velvet Octopus PowerPoint
plus a bit extra...
Quote: tothegame
In the culmination of the trilogy, players find Sypro teaming up with an unlikely ally - Cynder, his former enemy, to face his most challenging mission to date. As the Dark Master's (voiced by Mark Hamill) evil envelopes the world like a plague, Spyro must fulfill his destiny and unlock the true power of the purple dragon within him to stop the Dark Master in his tracks.

Two elements never before seen in the Spyro universe: fly at any time and drop-in/drop-out co-op, with Cynder. Both characters can complete the game separately as well.

Cynder being introduced as a strong, female lead alongside Spyro, girl gamers will have something to get excited about!

Fun combat gameplay with new elemental attack moves/combos, enemies, environments, etc.

This is the third and final installment of an epic trilogy, giving players a more mature character design and story line since the previous title; The Eternal Night.

Spyro makes his debut on the PS3! This new venture for the purple dragon onto the next gen console will attract new players who may have not been able to experience the Spyro series previously.

All-star voice cast including Elijah Wood, Gary Oldman, Blair Underwood, Christina Ricci, Wayne Brady and Mark Hamill
The information posted for both games was quickly removed but Mind over Mutant has today appeared at
Crash Village
with the same story.
10:35 AM - Thursday the 24th of April, 2008 - by dark52
In case you were still a little sceptical, today Nintendo announced a list of games due out this year, a list including "Spyro (tentative title) (Vivendi Games) October 2008" for both Wii and DS. For those Crash Bandicoot fans out there they also list a Crash game for them both as well.
Source:
Nintendo
9:16 AM - Wednesday the 23rd of April, 2008 - by dark52
A mysterious countdown has appeared on the splash page to
Spyro's Lair
. It appears to be counting down to the 28th of April (12 pm GMT). As the image accompanying the countdown is the after credits image from
The Legend of Spyro: The Eternal Night
, could this be a countdown until they officially announce the third part of the Legend of Spyro trilogy?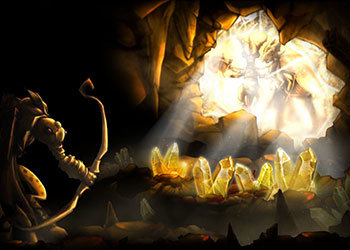 Thanks go to Twilight for spotting it.
3:00 PM - Tuesday the 12th of February, 2008 - by dark52
Finished
The Legend of Spyro: The Eternal Night
and wondering when you're going to find out what happens next? Well wonder no longer.
Velvet Octopus
, involved with the upcoming Legend of Spyro film, have posted the first information about the third entry to the trilogy.
Quote:
First appearance on PlayStation 3 and Xbox 360

Epic culmination of "Legend of Spyro" storyline Spyro finally faces the Dark Master

Fly at any time - first free flight in a Spyro game

Co-op play with Cynder (female dragon)

Global release Oct/Nov 2008

Other platforms aren't mentioned but I wouldn't cross them out just yet.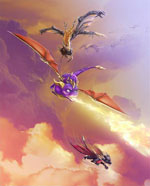 And even though this will wrap up the Legend of Spyro story they also go on to mention that annual releases of Spyro on all major gaming platforms in 2009 and beyond are planned.
UPDATE: Called "Legend of Spyro: Darkest Hour"?
EBgames
, they list PS3, PS2, Wii, Xbox 360 and DS versions of the game.
Thanks go to Vitani333 on SpyroForum and Neal from SpyroWorld.