News Archive - 3rd of June 2015
1:31 PM - Wednesday the 3rd of June, 2015 - by dark52
Skylanders SuperChargers
has been officially revealed. Matching pretty much everything that was rumoured we will be collecting from a set of 20 new SuperCharger Skylanders along with 20 new Vehicles to drive.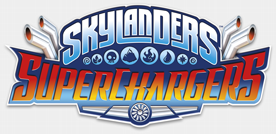 Spitfire
Stormblade
Super Shot Stealth Elf
There will be 10 brand new SuperCharger characters and 10 reimagined SuperChargers based on existing characters, such as Stealth Elf, Trigger Happy and Terrafin. They each have a matching vehicle which, when used together, they SuperCharge but any Skylander can use any vehicle. The SuperChargers will cost $12.99.
Hot Streak
Sky Slicer
Dive Bomber
The vehicles will be split into three groups, Land, Sea, and Sky, each being used for a different section of gameplay. Each vehicle can be customised in-game with modifications and weapons but only SuperChargers will be able to utilise this customisation feature. The vehicles will cost $14.99.
Quote:
In Skylanders SuperChargers, Kaos' quest to rule over Skylands reveals his most sinister weapon ever - a massive "Doomstation of Ultimate Doomstruction" capable of eating the sky itself. Fortunately, Master Eon had seen the warning signs and assembled a special team of Skylanders to pilot an unstoppable fleet of vehicles with the power to destroy the reign of destruction! With Skylands facing its greatest threat, the Skylanders must pilot their supercharged vehicles over land, under sea, and through the sky to stop Kaos!
While there is a new Portal of Power included in the Starter Pack you will be able to purchase and download a digital Portal Owners Pack and use your existing Portals to play the game.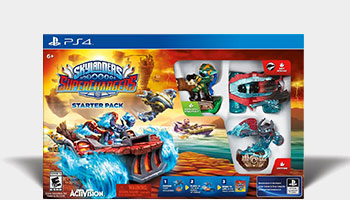 It will again be on all platforms, PS4, PS3, Xbox One, Xbox 360, Wii U, Wii, and 3DS. The Wii and 3DS versions will have a different experience to the other versions.
The game is set for release on the 20th of September in North America, the 24th of September in Australia, and the 25th of September in Europe.
Check out our
Gallery
for a few more
Skylanders SuperChargers
images.
There are loads of previews up around the web on sites such as
Polygon
,
Forbes
,
Kotaku
,
GameSpot
,
TheHDRoom
, and
Game Informer
and plenty of videos on Youtube channels like
FamilyGamer TV
,
TheSkylanderBoy AndGirl
,
VideoGamerTV
,
Coin-op TV
and many more.
January
S
M
T
W
T
F
S
1
2
3
4
5
6
7
8
9
10
11
12
13
14
15
16
17
18
19
20
21
22
23
24
25
26
27
28
29
30
31

February
S
M
T
W
T
F
S
1
2
3
4
5
6
7
8
9
10
11
12
13
14
15
16
17
18
19
20
21
22
23
24
25
26
27
28

March

| S | M | T | W | T | F | S |
| --- | --- | --- | --- | --- | --- | --- |
| 1 | 2 | 3 | 4 | 5 | 6 | 7 |
| 8 | 9 | 10 | 11 | 12 | 13 | 14 |
| 15 | 16 | 17 | 18 | 19 | 20 | 21 |
| 22 | 23 | 24 | 25 | 26 | 27 | 28 |
| 29 | 30 | 31 | | | | |

April

| S | M | T | W | T | F | S |
| --- | --- | --- | --- | --- | --- | --- |
| | | | 1 | 2 | 3 | 4 |
| 5 | 6 | 7 | 8 | 9 | 10 | 11 |
| 12 | 13 | 14 | 15 | 16 | 17 | 18 |
| 19 | 20 | 21 | 22 | 23 | 24 | 25 |
| 26 | 27 | 28 | 29 | 30 | | |

May

| S | M | T | W | T | F | S |
| --- | --- | --- | --- | --- | --- | --- |
| | | | | | 1 | 2 |
| 3 | 4 | 5 | 6 | 7 | 8 | 9 |
| 10 | 11 | 12 | 13 | 14 | 15 | 16 |
| 17 | 18 | 19 | 20 | 21 | 22 | 23 |
| 24 | 25 | 26 | 27 | 28 | 29 | 30 |
| 31 | | | | | | |

June

| S | M | T | W | T | F | S |
| --- | --- | --- | --- | --- | --- | --- |
| | 1 | 2 | 3 | 4 | 5 | 6 |
| 7 | 8 | 9 | 10 | 11 | 12 | 13 |
| 14 | 15 | 16 | 17 | 18 | 19 | 20 |
| 21 | 22 | 23 | 24 | 25 | 26 | 27 |
| 28 | 29 | 30 | | | | |

July

| S | M | T | W | T | F | S |
| --- | --- | --- | --- | --- | --- | --- |
| | | | 1 | 2 | 3 | 4 |
| 5 | 6 | 7 | 8 | 9 | 10 | 11 |
| 12 | 13 | 14 | 15 | 16 | 17 | 18 |
| 19 | 20 | 21 | 22 | 23 | 24 | 25 |
| 26 | 27 | 28 | 29 | 30 | 31 | |

August

| S | M | T | W | T | F | S |
| --- | --- | --- | --- | --- | --- | --- |
| | | | | | | 1 |
| 2 | 3 | 4 | 5 | 6 | 7 | 8 |
| 9 | 10 | 11 | 12 | 13 | 14 | 15 |
| 16 | 17 | 18 | 19 | 20 | 21 | 22 |
| 23 | 24 | 25 | 26 | 27 | 28 | 29 |
| 30 | 31 | | | | | |

September

| S | M | T | W | T | F | S |
| --- | --- | --- | --- | --- | --- | --- |
| | | 1 | 2 | 3 | 4 | 5 |
| 6 | 7 | 8 | 9 | 10 | 11 | 12 |
| 13 | 14 | 15 | 16 | 17 | 18 | 19 |
| 20 | 21 | 22 | 23 | 24 | 25 | 26 |
| 27 | 28 | 29 | 30 | | | |

October
S
M
T
W
T
F
S
1
2
3
4
5
6
7
8
9
10
11
12
13
14
15
16
17
18
19
20
21
22
23
24
25
26
27
28
29
30
31

November

| S | M | T | W | T | F | S |
| --- | --- | --- | --- | --- | --- | --- |
| 1 | 2 | 3 | 4 | 5 | 6 | 7 |
| 8 | 9 | 10 | 11 | 12 | 13 | 14 |
| 15 | 16 | 17 | 18 | 19 | 20 | 21 |
| 22 | 23 | 24 | 25 | 26 | 27 | 28 |
| 29 | 30 | | | | | |

December

| S | M | T | W | T | F | S |
| --- | --- | --- | --- | --- | --- | --- |
| | | 1 | 2 | 3 | 4 | 5 |
| 6 | 7 | 8 | 9 | 10 | 11 | 12 |
| 13 | 14 | 15 | 16 | 17 | 18 | 19 |
| 20 | 21 | 22 | 23 | 24 | 25 | 26 |
| 27 | 28 | 29 | 30 | 31 | | |