News Archive - 24th of April 2014
12:31 PM - Thursday the 24th of April, 2014 - by dark52
Ending months of speculation Activision have finally
unveiled
the fourth entry to the Skylanders series:
Skylanders Trap Team
. The game features new "Trap Master" Skylanders and a new Traptanium Trap toy for capturing and then taking control of villains from the game.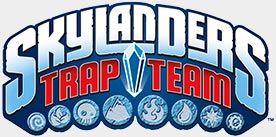 To capture a villain in
Trap Team
you must first defeat them, once you've done that you place a Traptanium Trap (with an element matching the villain) in the slot on the new Traptanium Portal and the villain is yours. You can then summon that villain back into the game at will and play as them on your own side in the fight against evil.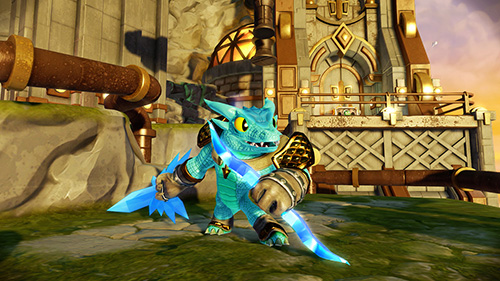 According to the story of
Trap Team
Kaos has discovered the location of Cloudcracker Prison and has blown it up to free the nefarious baddies housed within, he's done this to use them as his own personal army to takeover Skylands. It's up to the Portal Masters to find the Traptanium Traps that had previously made up the prison in order to recapture the villains and save Skylands from Kaos' evil plans once again.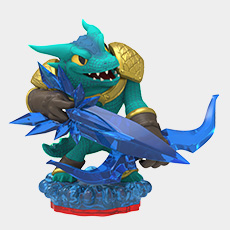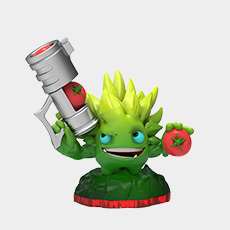 Snap Shot, Food Fight
There will be sixteen brand new Trap Master Skylanders, these characters are slightly larger than the core Skylanders and wield mighty Traptanium weapons that help in the fight against the villains of
Trap Team
. The Trap Masters can also find Traptanium shards as well as enter Traptanium zones to find hidden villains. There are also eighteen new core Skylanders, like Food Fight above, and more reposed returning favourites such as Gill Grunt and Shroomboom.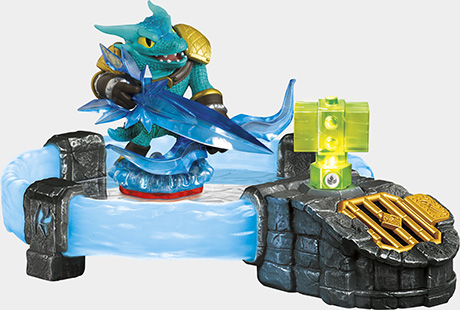 Traptanium Portal with Snap Shot and Life Hammer Trap
The new Traptanium Portal has a single slot for a Traptanium Trap and most notably also features its own speaker for the villains to talk to you through giving you a greater sense that the villain you've captured has really been brought out of the game and into this world.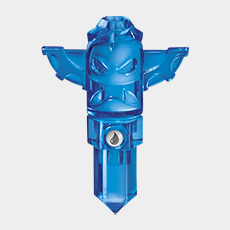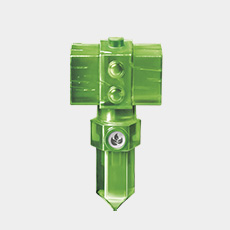 Water Tiki Trap, Life Hammer Trap
A box of fifteen different styles of Traptanium Traps was seen in the trailer below, each one has an element assigned to it which means that you can only capture specific villains with each Trap. So for example if you're facing the Tech villain troll duo that makes up Shrednaught you'll need a Tech Trap to capture them. You will be able to house multiple villains in each Trap so despite a reported total of 40 villains in Trap Team you won't quite need that many Traps to catch 'em all.
The Starter Pack comes with the Trap Master Skylander Snap Shot, the core Skylander Food Fight, the Water Tiki Trap, the Life Hammer Trap, the new Traptanium Portal as well as the usual stickers, cards and poster that you'd expect.
Trap Team is once again being developed by Toys for Bob, the original developers of Skylanders: Spyro's Adventure and Skylanders: Giants. They will be handling the PlayStation 3, Xbox 360 and Nintendo Wii versions of the game while Beenox will be on the PlayStation 4, Xbox One, Wii U and Nintendo 3DS versions. The game is set for release on the 5th of October 2014 in North America, the 10th of October in Europe and the 2nd of October in Australia/New Zealand.
Many media outlets have articles and videos on the reveal including
Game Informer
,
IGN
,
GameSpot
,
Joystiq
,
Kotaku
,
Engadget
,
Polygon
,
Games Radar
,
Forbes
,
The HD Room
,
Connected Digital World
,
Family Gamer TV
,
The Skylander Boy and Girl
and
Coin-Op.tv
. We also have our own
gallery
full of images on this very site.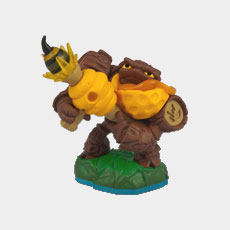 And lastly in
Swap Force
news, Toys R Us have emailed out a Hot Toy Alert for Lightcore Bumble Blast giving him a release date of this Saturday, the 26th of April. They'll also have various other offers on the day in store including one for a free Lightcore Hex figure when you buy a Swap Force Lightcore figure. Because everyone needs another Lightcore Hex.
January

| S | M | T | W | T | F | S |
| --- | --- | --- | --- | --- | --- | --- |
| | | | 1 | 2 | 3 | 4 |
| 5 | 6 | 7 | 8 | 9 | 10 | 11 |
| 12 | 13 | 14 | 15 | 16 | 17 | 18 |
| 19 | 20 | 21 | 22 | 23 | 24 | 25 |
| 26 | 27 | 28 | 29 | 30 | 31 | |

February

| S | M | T | W | T | F | S |
| --- | --- | --- | --- | --- | --- | --- |
| | | | | | | 1 |
| 2 | 3 | 4 | 5 | 6 | 7 | 8 |
| 9 | 10 | 11 | 12 | 13 | 14 | 15 |
| 16 | 17 | 18 | 19 | 20 | 21 | 22 |
| 23 | 24 | 25 | 26 | 27 | 28 | |

March

| S | M | T | W | T | F | S |
| --- | --- | --- | --- | --- | --- | --- |
| | | | | | | 1 |
| 2 | 3 | 4 | 5 | 6 | 7 | 8 |
| 9 | 10 | 11 | 12 | 13 | 14 | 15 |
| 16 | 17 | 18 | 19 | 20 | 21 | 22 |
| 23 | 24 | 25 | 26 | 27 | 28 | 29 |
| 30 | 31 | | | | | |

April

| S | M | T | W | T | F | S |
| --- | --- | --- | --- | --- | --- | --- |
| | | 1 | 2 | 3 | 4 | 5 |
| 6 | 7 | 8 | 9 | 10 | 11 | 12 |
| 13 | 14 | 15 | 16 | 17 | 18 | 19 |
| 20 | 21 | 22 | 23 | 24 | 25 | 26 |
| 27 | 28 | 29 | 30 | | | |

May
S
M
T
W
T
F
S
1
2
3
4
5
6
7
8
9
10
11
12
13
14
15
16
17
18
19
20
21
22
23
24
25
26
27
28
29
30
31

June

| S | M | T | W | T | F | S |
| --- | --- | --- | --- | --- | --- | --- |
| 1 | 2 | 3 | 4 | 5 | 6 | 7 |
| 8 | 9 | 10 | 11 | 12 | 13 | 14 |
| 15 | 16 | 17 | 18 | 19 | 20 | 21 |
| 22 | 23 | 24 | 25 | 26 | 27 | 28 |
| 29 | 30 | | | | | |

July

| S | M | T | W | T | F | S |
| --- | --- | --- | --- | --- | --- | --- |
| | | 1 | 2 | 3 | 4 | 5 |
| 6 | 7 | 8 | 9 | 10 | 11 | 12 |
| 13 | 14 | 15 | 16 | 17 | 18 | 19 |
| 20 | 21 | 22 | 23 | 24 | 25 | 26 |
| 27 | 28 | 29 | 30 | 31 | | |

August

| S | M | T | W | T | F | S |
| --- | --- | --- | --- | --- | --- | --- |
| | | | | | 1 | 2 |
| 3 | 4 | 5 | 6 | 7 | 8 | 9 |
| 10 | 11 | 12 | 13 | 14 | 15 | 16 |
| 17 | 18 | 19 | 20 | 21 | 22 | 23 |
| 24 | 25 | 26 | 27 | 28 | 29 | 30 |
| 31 | | | | | | |

September

| S | M | T | W | T | F | S |
| --- | --- | --- | --- | --- | --- | --- |
| | 1 | 2 | 3 | 4 | 5 | 6 |
| 7 | 8 | 9 | 10 | 11 | 12 | 13 |
| 14 | 15 | 16 | 17 | 18 | 19 | 20 |
| 21 | 22 | 23 | 24 | 25 | 26 | 27 |
| 28 | 29 | 30 | | | | |

October

| S | M | T | W | T | F | S |
| --- | --- | --- | --- | --- | --- | --- |
| | | | 1 | 2 | 3 | 4 |
| 5 | 6 | 7 | 8 | 9 | 10 | 11 |
| 12 | 13 | 14 | 15 | 16 | 17 | 18 |
| 19 | 20 | 21 | 22 | 23 | 24 | 25 |
| 26 | 27 | 28 | 29 | 30 | 31 | |

November

| S | M | T | W | T | F | S |
| --- | --- | --- | --- | --- | --- | --- |
| | | | | | | 1 |
| 2 | 3 | 4 | 5 | 6 | 7 | 8 |
| 9 | 10 | 11 | 12 | 13 | 14 | 15 |
| 16 | 17 | 18 | 19 | 20 | 21 | 22 |
| 23 | 24 | 25 | 26 | 27 | 28 | 29 |
| 30 | | | | | | |

December

| S | M | T | W | T | F | S |
| --- | --- | --- | --- | --- | --- | --- |
| | 1 | 2 | 3 | 4 | 5 | 6 |
| 7 | 8 | 9 | 10 | 11 | 12 | 13 |
| 14 | 15 | 16 | 17 | 18 | 19 | 20 |
| 21 | 22 | 23 | 24 | 25 | 26 | 27 |
| 28 | 29 | 30 | 31 | | | |