News Archive - 17th of April 2014
11:30 AM - Thursday the 17th of April, 2014 - by dark52
On Wednesday the 23rd of April Activision will be
revealing
the next Skylanders game at a special press event. In a separate event for the regular fans on the same day they will also be giving away 500 free Doom Stone figures at the Times Square
Toys R Us
store in New York, Doom Stone being the last remaining unique character still to be released for
Skylanders Swap Force
.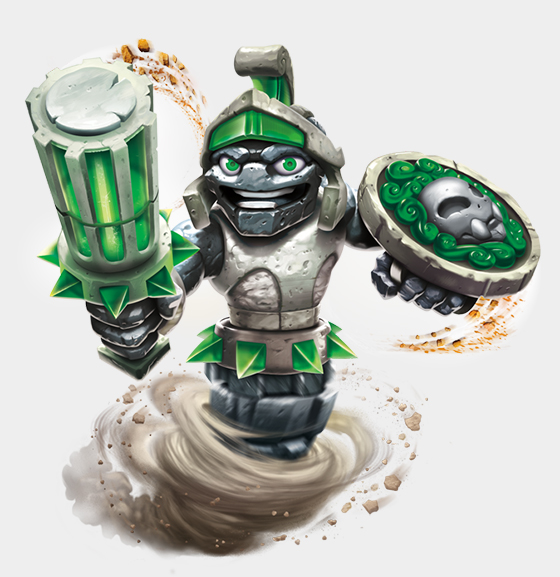 Quote: Press Release
Activision Publishing, Inc. and Toys"R"Us are giving fans the rare opportunity to receive a complimentary Skylanders toy at a special Toys"R"Us Times Square event celebrating Skylanders Day! Before the final Skylanders SWAP Force character, Doom Stone, is released to the public, the first 500 Portal Masters to line up at The World's Greatest Toy Store on Wednesday, April 23, will be among the first to get their hands on this must-have figure.

Fans attending the event will get the chance to meet Skylanders costumed characters, experience the bestselling kids' videogame franchise at in-store gaming kiosks and receive other fun Skylanders giveaways.
Last year had a
similar event
with Ninjini at the time of the reveal of Swap Force and saw the regular release of Ninjini around a month later, which hopefully bodes well for those of us who can't make it to New York.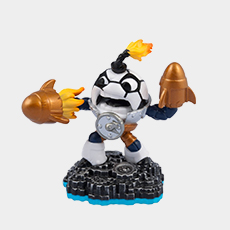 A listing for one of the two remaining alt-deco figures from Swap Force, Kickoff Countdown, has been
spotted
on a couple of European Amazon websites along with a few different release dates including the 14th of May.

Target in Australia are
giving away
25 limited edition flocked Springtime Trigger Happy toys. To be eligible to enter you must spend $30 or more on Swap Force gaming products, you then need to answer the question "Why would you like to add Limited Edition Trigger Happy to your Skylanders collection?" in 25 words or less and the best 25 answers will win the figure. The promo runs until the 30th of April.
And
Skylanders Lost Islands
has been getting into the update spirit again over the past few weeks with things like an increased level cap, new islands and a new companion.

March 17: Fryno and Scratch became available for purchase with gems or using the Skylander spinner.

March 24: A new Adventure Clock building that lets you instantly finish all active Adventure Balloons. The building costs 500 Gems, you can use it once every 24 hours and it costs 250 Energy per active balloon.

April 1: The kingdom level cap was raised from 40 to 45 and a new small island called "Sheep Island" now becomes available for purchase at level 41, it'll cost 25 million coins once you're there.

April 7: A visual upgrade to the Summoning Stone. It costs 15 million coins and ups the amount you get from Orville each day to 2,500 coins.

April 14: New companion Willowbark who costs 200 Gems and doubles the XP bonus effect of your decorations. And another small island called "Troll Island" that becomes available for purchase at level 42 for a sum of 30 million coins.
January

| S | M | T | W | T | F | S |
| --- | --- | --- | --- | --- | --- | --- |
| | | | 1 | 2 | 3 | 4 |
| 5 | 6 | 7 | 8 | 9 | 10 | 11 |
| 12 | 13 | 14 | 15 | 16 | 17 | 18 |
| 19 | 20 | 21 | 22 | 23 | 24 | 25 |
| 26 | 27 | 28 | 29 | 30 | 31 | |

February

| S | M | T | W | T | F | S |
| --- | --- | --- | --- | --- | --- | --- |
| | | | | | | 1 |
| 2 | 3 | 4 | 5 | 6 | 7 | 8 |
| 9 | 10 | 11 | 12 | 13 | 14 | 15 |
| 16 | 17 | 18 | 19 | 20 | 21 | 22 |
| 23 | 24 | 25 | 26 | 27 | 28 | |

March

| S | M | T | W | T | F | S |
| --- | --- | --- | --- | --- | --- | --- |
| | | | | | | 1 |
| 2 | 3 | 4 | 5 | 6 | 7 | 8 |
| 9 | 10 | 11 | 12 | 13 | 14 | 15 |
| 16 | 17 | 18 | 19 | 20 | 21 | 22 |
| 23 | 24 | 25 | 26 | 27 | 28 | 29 |
| 30 | 31 | | | | | |

April

| S | M | T | W | T | F | S |
| --- | --- | --- | --- | --- | --- | --- |
| | | 1 | 2 | 3 | 4 | 5 |
| 6 | 7 | 8 | 9 | 10 | 11 | 12 |
| 13 | 14 | 15 | 16 | 17 | 18 | 19 |
| 20 | 21 | 22 | 23 | 24 | 25 | 26 |
| 27 | 28 | 29 | 30 | | | |

May
S
M
T
W
T
F
S
1
2
3
4
5
6
7
8
9
10
11
12
13
14
15
16
17
18
19
20
21
22
23
24
25
26
27
28
29
30
31

June

| S | M | T | W | T | F | S |
| --- | --- | --- | --- | --- | --- | --- |
| 1 | 2 | 3 | 4 | 5 | 6 | 7 |
| 8 | 9 | 10 | 11 | 12 | 13 | 14 |
| 15 | 16 | 17 | 18 | 19 | 20 | 21 |
| 22 | 23 | 24 | 25 | 26 | 27 | 28 |
| 29 | 30 | | | | | |

July

| S | M | T | W | T | F | S |
| --- | --- | --- | --- | --- | --- | --- |
| | | 1 | 2 | 3 | 4 | 5 |
| 6 | 7 | 8 | 9 | 10 | 11 | 12 |
| 13 | 14 | 15 | 16 | 17 | 18 | 19 |
| 20 | 21 | 22 | 23 | 24 | 25 | 26 |
| 27 | 28 | 29 | 30 | 31 | | |

August

| S | M | T | W | T | F | S |
| --- | --- | --- | --- | --- | --- | --- |
| | | | | | 1 | 2 |
| 3 | 4 | 5 | 6 | 7 | 8 | 9 |
| 10 | 11 | 12 | 13 | 14 | 15 | 16 |
| 17 | 18 | 19 | 20 | 21 | 22 | 23 |
| 24 | 25 | 26 | 27 | 28 | 29 | 30 |
| 31 | | | | | | |

September

| S | M | T | W | T | F | S |
| --- | --- | --- | --- | --- | --- | --- |
| | 1 | 2 | 3 | 4 | 5 | 6 |
| 7 | 8 | 9 | 10 | 11 | 12 | 13 |
| 14 | 15 | 16 | 17 | 18 | 19 | 20 |
| 21 | 22 | 23 | 24 | 25 | 26 | 27 |
| 28 | 29 | 30 | | | | |

October

| S | M | T | W | T | F | S |
| --- | --- | --- | --- | --- | --- | --- |
| | | | 1 | 2 | 3 | 4 |
| 5 | 6 | 7 | 8 | 9 | 10 | 11 |
| 12 | 13 | 14 | 15 | 16 | 17 | 18 |
| 19 | 20 | 21 | 22 | 23 | 24 | 25 |
| 26 | 27 | 28 | 29 | 30 | 31 | |

November

| S | M | T | W | T | F | S |
| --- | --- | --- | --- | --- | --- | --- |
| | | | | | | 1 |
| 2 | 3 | 4 | 5 | 6 | 7 | 8 |
| 9 | 10 | 11 | 12 | 13 | 14 | 15 |
| 16 | 17 | 18 | 19 | 20 | 21 | 22 |
| 23 | 24 | 25 | 26 | 27 | 28 | 29 |
| 30 | | | | | | |

December

| S | M | T | W | T | F | S |
| --- | --- | --- | --- | --- | --- | --- |
| | 1 | 2 | 3 | 4 | 5 | 6 |
| 7 | 8 | 9 | 10 | 11 | 12 | 13 |
| 14 | 15 | 16 | 17 | 18 | 19 | 20 |
| 21 | 22 | 23 | 24 | 25 | 26 | 27 |
| 28 | 29 | 30 | 31 | | | |