Category: Lost Islands
9:24 PM - Monday the 7th of October, 2013 - by dark52
In this week's
Skylanders: Lost Islands
update the last of the sidekicks squeezes in and the boys set up their own HQ.

Just in the nick of time Barkley makes his debut and rounds out the Giants Sidekicks only days before Swap Force is due to be released. If you don't have the toy he'll cost you 300 Gems.

The Scouts HQ provides a house for all of the boy Skylanders, complete with a 200 Gem price tag. The output is just like the Sky Cadettes HQ that the girl Skylanders got last week.

Last Friday the official Youtube channel posted the first in what looks to be the start of a series of weekly videos, the
Skylanders Boomcast
.
Quote:
Skylanders Boomcast brings you the latest in Skylanders SWAP Force news. Host Zachary Gordon reveals the story behind the SWAP Force team and shares his favorite new combination when he swaps WASH BUCKLER with STINK BOMB to form: STINK BUCKLER! And Fryno makes a special appearance.

New Skylanders VIDEOS EVERY FRIDAY featuring the latest NEWS, TIPS & FAN ART of your favorite characters in Skylanders SWAP Force.
8:53 PM - Monday the 30th of September, 2013 - by dark52
Or SWAPtober if you prefer. There are a few things going on to mark the launch of
Skylanders SWAP Force
, first up is that during the whole of October the official Skylanders
twitter account
will be giving away a single SWAP Force Starter Pack each day.
Quote:
Fans can then tweet their favorite SWAP Force character combination along with a suggested catchphrase using the hashtags #SWAPtober and #Skylanders for the chance to win one of the daily Skylanders SWAP Force Starter Pack giveaways, which will be available after the game's launch.
On Thursday the 10th from 3-6 PM there will be "celebration" in Times Square dubbed SWAPtoberfest where "fans will have the chance to be among the very first to play the game before it's available at retail" (the game launches on the 13th).
Quote:
SWAPtoberfest will feature Skylanders SWAP Force-themed activities, photos with Skylanders costumed characters as well as chances to win a Skylanders SWAP Force Starter Pack and special Skylanders-themed merchandise from top companies like MEGA Brands, Rubie's Costume Company, Hybrid Apparel and Power A.
And on the 12th and 13th at the Toys R Us flagship store in New York City you'll find "one-of-a-kind in-store experiences, including game demos and giveaways" to celebrate the launch of the game.
Skylanders: Lost Islands
gets its weekly update with a new house and a new companion.

A new house just for the girls, the Sky Cadettes HQ which costs 200 Gems and can be used by any of the female Skylanders

A new companion Batterson who ups the number of kudos invitations can send in another kingdom from 3 to 6, he costs 200 Gems

Super Tuesday tomorrow will be to get a chest every time you clear a troll/sheep/chompy pod so try to save them up if you can!

And October's Alter-Ego is Skeletal Cynder, you'll be able to win her in the Wishin' Well from the 1st all the way through to the end of the month

12:51 AM - Tuesday the 24th of September, 2013 - by dark52
The
official Skylanders website
has been updated with all of the artwork, videos, back stories and a few screenshots of each of the new
Skylanders SWAP Force
characters like Punk Shock and Wind Up below.
Several new trailers for the game have also been posted on the
official Youtube channel
like this CGI trailer introducing us to a new villain.
A few new alternative decoration toys have been discovered recently including a new Enchanted Hoot Loop, the first visual of Nitro Magna Charge, and an odd looking Jolly Bumble Blast. The first two you can find on the official website but Jolly Bumble Blast remains elusive.

Frito-Lay have
launched
a new sweepstakes to win a special orange and black Fright Rider. You find a code inside the large packs and enter it online for a chance to win one of the Fright Riders. It runs until the middle of November but remember it's just a chance to win unlike with the Sidekicks.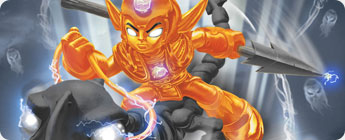 A fairly large update has hit the Lost Islands this week, you'll need to go to the App Store to update the app this time.

A brand new type of currency called Kudos that is earned from the social objectives and used to buy a few things.

Admiral Thumpback is a new Alter Ego but not from the Wishin' Well, instead he'll cost you 2000 Kudos.

A new companion, Capybara King, costs 150 Gems but then causes all of your chests to have a bonus gem inside.

Gurglefin is another new companion, he costs 400 Kudos and adds the chance to get Wishstones from gifts.

The penultimate Sidekick Thumpling also sneaks in, he'll cost you 300 Gems if you don't have the toy.

You can get Thumpback's House for free until the 29th.

It's also Water Week which means Water Skylanders get +25% gold just like the Dragon Skylanders did last week.

And finally there's a new bunch of decorations as well as a house for you to spend Kudos on.

Super Tuesday is a free gem each hour that you have to collect from Orville and 33% off Shrines.
7:42 PM - Monday the 16th of September, 2013 - by dark52
All this week is Dragon Week in
Skylanders: Lost Islands
.

A new "Dragon Lair" house for all of the dragon Skylanders to use. It'll cost you 1200 Gems though.

The Dragon Week event gives all of the dragon Skylanders 25% extra gold until Sunday.

And level 40 has a new "Stage" community building.

Oddly no new sidekick this week.
2:28 PM - Monday the 9th of September, 2013 - by dark52
Later this week will apparently see the release of a special variant of the giant Eye-Brawl, it's already been
spotted
in a few places in Canada.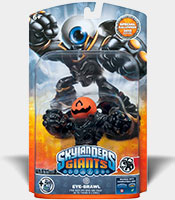 The "Special Halloween 2013 Edition" Eye-Brawl, more commonly referred to as Pumpkin Eye-Brawl thanks to his distinctive orange pumpkin-like eye-ball, is not an in-game variant and will appear exactly the same as a regular Eye-Brawl when playing just like the Glow-in-the-Dark editions of characters like Cynder and Sonic Boom that you might already own. It does however have the same "Special" tag that makes it distinct in the collection screen even if it doesn't look or behave any differently.
A quiet one for
Skylanders: Lost Islands
this week, Eye-Small is more widely available and the month's Alter-Ego gets his Hut.

Eye-Small joins Lost Islands properly, you can now buy him for 300 Gems.

Autumn Stump Smash gets his own Hut for 350 Gems.

A new Wood Stack House for level 39 that can house 3200 Mabu.

And in news for a related game, the previously exclusive to iOS
Skylanders: Battlegrounds
has been
announced
for the LG Smart TV platform and is due out "this holiday season". Here's hoping they remember to finish it off this time.
3:09 PM - Wednesday the 4th of September, 2013 - by dark52
Whisper Elf gets her house and Mini-Jini turns up to play.

Mini-Jini kicks off the Giant Sidekicks with her arrival. Use your toy or buy her for 300 Gems.

Whisper Elf is the second Sidekick to get a house, as usual it'll cost you 350 Gems.

Level 38 gets a new building, a Park.

Eye-Small also makes an appearance but only if you buy the most expensive 7500 Gem Pack (for half price).

All the Giant Houses are back for a very short time.

And we bid farewell to Flynn as he's leaving this Sunday.

Don't forget the new Alter-Ego that arrived on Sunday, Autumn Stump Smash, who you can win in the Wishing Well all month long.
8:00 PM - Monday the 26th of August, 2013 - by dark52
Another new house for an old alter-ego, a new Sidekick and an upcoming event mark this week's
Skylanders: Lost Islands
update.



Terrabite joins the other three Sidekicks to fill out the original set of four. 300 Gems to buy him if you don't have the toy.

Buddy Wrecking Ball gets his own Hut for 350 of your Gems.

This weekend will be a Wishing Weekend where you can win previous alter-egos as Top Prizes, the Wish Stones that you earn will be doubled and you'll be able to get the companion Ermit who reduces Sanctuary time by half.

A new Boat House for your Mabu to live in too, if you can get to level 37 that is...

An update late last week upped the Kingdom's level cap from 35 to 40 so it's time to get collecting that Kingdom XP again!
And Super Tuesday is the forewarned Chompy Invasion as well as 25% off last week's new companion, Cape Girl.
5:43 PM - Monday the 19th of August, 2013 - by dark52
This week's
Skylanders: Lost Islands
update sees the addition of a brand new companion, a new Sidekick and a new house.

Cape Girl, a new companion who can instantly complete Sheep, Troll and Chompy Pod invasions. Costs 150 Gems.

Gill Runt, the third of the Sidekicks is now available. Costs 300 Gems (or of course free if you have the toy).

Trigger Snappy's House, a new house for Trigger Snappy. Costs 350 Gems.

And the usual new timed quests for premium items, one of the quests involves both of the Sidekicks from last week.


Infinity Guru:
Disney Infinity launches to positive reviews.
7:52 AM - Tuesday the 13th of August, 2013 - by dark52
A special $100 edition of the Skylanders Swap Force Starter Pack has been
announced
, the Dark Edition Starter Pack will be exclusive to GameStop and feature five Dark versions of some Skylanders.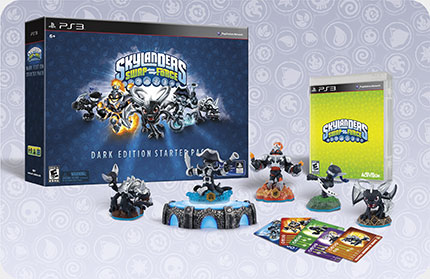 The main attraction is the five dark Skylanders: Dark Wash Buckler, Dark Blast Zone, Dark Ninja Stealth Elf, Dark Mega Ram Spyro, and Dark Slobber Tooth. And along with all the usual stickers and cards you'll get a special poster featuring all of the characters from all three games.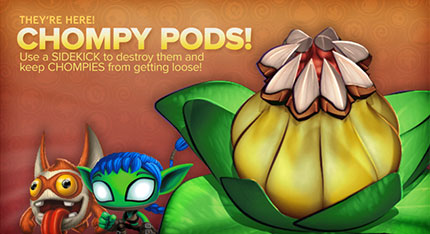 Lost Islands this week sees the introduction of the first two Sidekicks, Trigger Snappy and Whisper Elf. They behave just like the other Skylanders but they can tackle the new Chompy Pods when they're fresh, other Skylanders must wait for it to empty. The other six Sidekicks are likely to be rolled out slowly like they've been doing with the variants. Super Tuesday this week has a double gold bonus.
5:24 PM - Monday the 5th of August, 2013 - by dark52
This week's update to
Skylanders Lost Islands
sees a few new additions as well as a returning giant house.

Gnarly Tree Rex is now available, you can unlock for free even without the toy.

A new companion called Ol'Mac has arrived who can double the energy you get from crops, he costs a whopping 3500 gems.

Grill Master Chop Chop's Hut has been added at the usual price of 350 gems.

Tree Rex's House is back until the 14th of August in celebration of Gnarly Tree Rex's debut, again it's priced at 350 gems.

An announcement that the Sidekicks will be coming to the Lost Islands next week but no indication of what they might do.

And of course a few new timed quests to complete.

Update: And for Super Tuesday you'll be able to collect a free gem from Orville each hour and shrines are 33% off at 200 gems each.
4:32 PM - Thursday the 1st of August, 2013 - by dark52
Previously only seen in special Wii and PS3 console bundles, a single pack of Gnarly Tree Rex is about to hit the stores.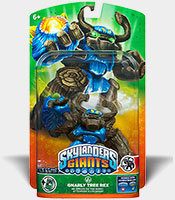 A few have already been
found
in stores but it is not expected to be properly released until a little later in the month.
The first of the new Giants sidekicks from the
Frito-Lay promotion
have been
arriving
so be on the lookout if you've ordered some of those.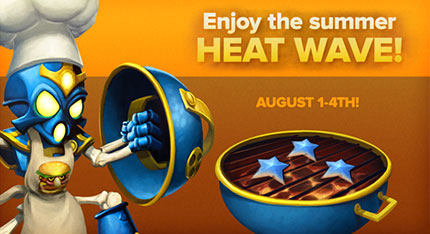 And
Skylanders: Lost Islands
updated again this week. First with a new companion, Ruggles, who increases the number of Skylanders you can send in a Sanctuary, and today with the month's brand new Alter-Ego called "Grill Master Chop Chop" that you can win in the Wishin' Well (or just buy for 1500 gems).
As part of the "Heat Wave" event that lasts until the 4th of August you can also win previous alter-egos in the Wishin' Well as Top Prizes and hero points from all sources have been doubled for the duration.

Infinity Guru:
Series 1 Power Discs and their abilities revealed in video form.