Category: Imaginators
1:07 PM - Tuesday the 26th of July, 2016 - by dark52
Instagram user
adamaboumouss
has spotted that the latest issue of MEGA! magazine has got a whole load of new Skylanders and Villains for Skylanders Imaginators.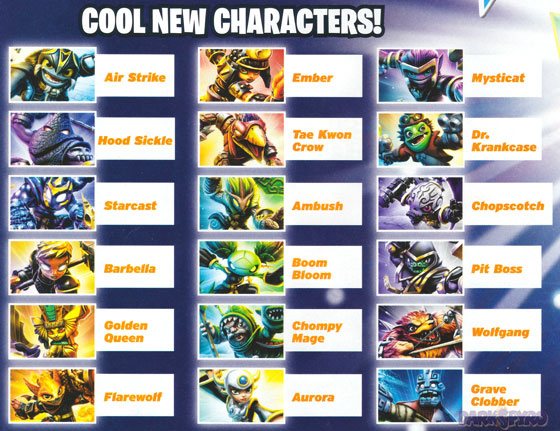 Organised by elemental alphabetical order we have for the new characters: Air Strike (Air), Starcast (Dark), Flarewolf (Fire), Boom Bloom (Life), Aurora (Light), Mysticat (Magic), and Pit Boss (Undead). Also included are the returning Villains Chompy Mage (Life) and Grave Clobber (Water).
We're getting very close to a full roster now as that brings the total seen Skylanders to 16 out of 20, and the Villains to 9 out of 11.
And thanks to forum member Newguy333 for
spotting the post
.
7:43 PM - Saturday the 16th of July, 2016 - by dark52
The latest edition of the Argos catalogue has included advance listings for several previously unannounced Skylanders from
Skylanders Imaginators
.
They include an Earth Sentinel named Barbella, an Undead Smasher called Chopscotch, as well as two returning villains: the Tech Quickshot "Dr. Krankcase" and the elementally realigned Fire Ninja "Tae Kwon Crow".

And a few days ago there was an official reveal at the "Sweet Suite 16" event in New York City where they showed off another elementally realigned returning villain, the now Dark Sentinel "
Hood Sickle
".
2:15 AM - Tuesday the 14th of June, 2016 - by dark52
Confirming the rumours, at Sony's E3 press conference it was revealed that Crash Bandicoot is indeed coming to
Skylanders Imaginators
.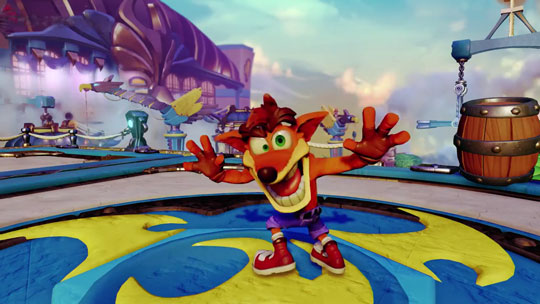 As for the game's lore for why he's here:
Quote:
A wormhole has opened in Skylands and the great Aku Aku appears! He has come to announce the once-in-two-decades Synchronization Celebration--a time when all of the worlds align perfectly. All the inhabitants of Wumpa Island are having a party and they want to invite the Skylanders. But with Kaos on a quest to take over Skylands using his army of Doomlanders, the Skylanders must focus on stopping his evil plans. Never one to shy away from danger, the legendary marsupial Crash Bandicoot leaps through the wormhole to join the Skylanders in the ultimate battle against Kaos!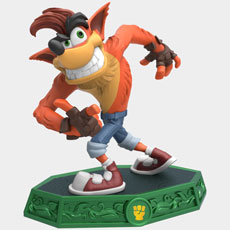 He will be available in special PlayStation 3 and PlayStation 4 Starter Packs but the character will be playable on all consoles, he will not be restricted like Bowser and Donkey Kong last year.
And that's not all for the long dormant character, they'll also be remastering the first three PS1 Crash Bandicoot games for PS4.
11:05 PM - Friday the 10th of June, 2016 - by dark52
Following on from a couple of Singapore based retailers listing a PS4 exclusive "Crash Edition" of
Skylanders Imaginators
, the
official website
has perhaps inadvertently confirmed that something with that name is indeed coming.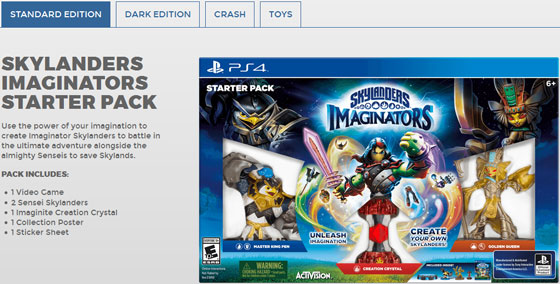 Nothing beyond the word "Crash" is mentioned as the tab does nothing when clicked on but it certainly backs up what those retailers had listed. With E3 2016 next week the contents of this "Crash" bundle will hopefully not remain a mystery for too much longer.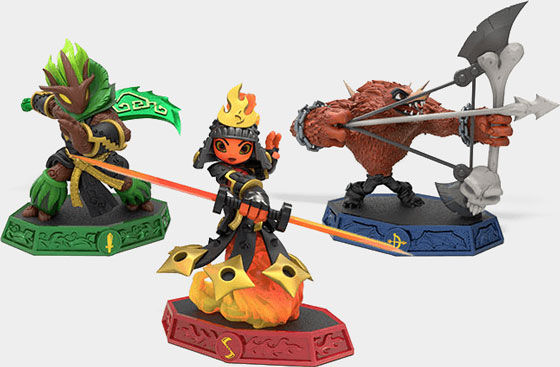 The site also showed off the toys of a couple of new Sensei characters that we've previously seen in artwork form, as well as Wolfgang's regular toy.
Thanks to
TheCreator
for spotting this.
2:55 PM - Wednesday the 1st of June, 2016 - by dark52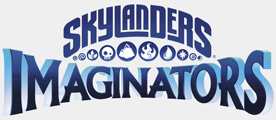 The sixth game in the Skylanders series has been announced as
Skylanders Imaginators
. The core idea behind this edition of the game is the creation of your own custom Skylanders, there are also going to be 20 brand new "Sensei" Skylanders as well as 11 former Villains turned Skylander.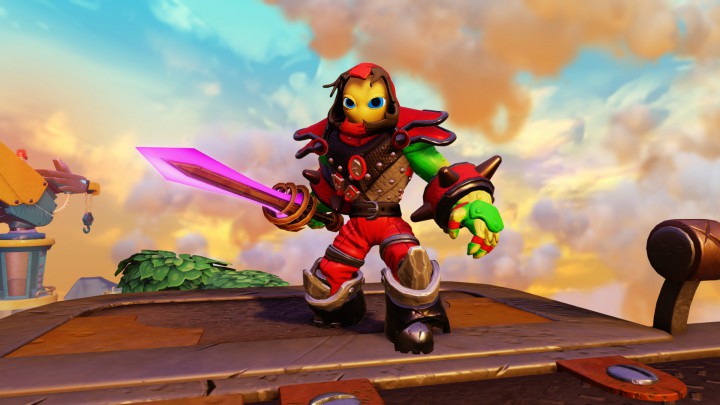 To create one of these "Imaginators" (an example above) you'll first need a Creation Crystal, you get a Fire element one in this year's Starter Pack, once you have that you can choose a class of fighter (10 to choose from including Sorcerer, Brawler, Ninja, etc.) and then mix and match through thousands of different combinations of heads, arms, torsos, legs, voices, weapons, and colour schemes to create a Skylander of your very own. The Creation Crystals will cost $9.99 each.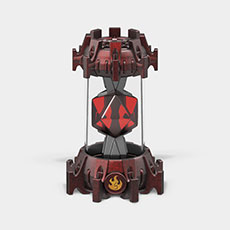 In addition to the custom Skylanders there will be new Sensei characters that will help improve your creations by unlocking things like special moves and allowing your creations to grow to higher levels. The Senseis are joined by a selection of reformed Villains, like Golden Queen, this time as fully fleshed out playable Skylanders complete with their own physical toy. These figures will cost $14.99 each.
| | | |
| --- | --- | --- |
| | | |
| King Pen | Golden Queen | Tri-Tip |
The game will be releasing on PS3, PS4, Xbox 360, Xbox One, and Wii U in October, on the 16th in North America, the 14th in Europe, and the 13th in Australia/New Zealand. There will not be a Wii, 3DS or even an iOS version of the game this time around. The regular version will cost $74.99 while the new Dark Edition will be $99.99.
For more coverage of the announcement check out articles across the web from places like
TIME
,
Polygon
,
Game Informer
,
GameSpot
, and
Kotaku
. There are also loads of videos up on Youtube from channels like
CoinOp TV
,
FamilyGamer TV
,
The8Bittheater
,
Tealgamemaster
and
many more...
1:03 PM - Tuesday the 31st of May, 2016 - by dark52
Jumping the gun a little, Toys R Us have included something called "Skylanders Imaginators" in the Character/Theme category for searching on their website. The category is completely empty when clicked on but this would seem to be the title for the next Skylanders game.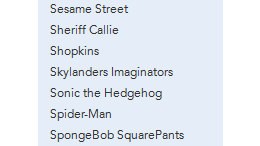 We are anticipating a full reveal later in the week (tomorrow most likely) but in the meantime you can check out our
Skylanders Imaginators forum
for all the latest finds, like these three figures:
11:08 AM - Sunday the 22nd of May, 2016 - by dark52
Forum member skylandsfan
has spotted
the first new Skylander from the next game. Found on the cover of an
officially licensed calendar
we can tell that this new penguin-esque Skylander is part of the water element but if it's also a new type of toy it is not immediately obvious what that new function could be.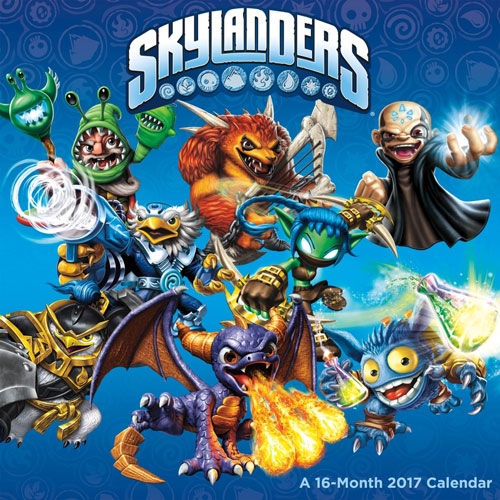 Skylanders SuperChargers was officially announced on the 3rd of June 2015 so even though announcements have been getting later and later each time hopefully it won't be too much longer before this year's instalment is unveiled.