News Archive - 9th of September 2013
2:28 PM - Monday the 9th of September, 2013 - by dark52
Later this week will apparently see the release of a special variant of the giant Eye-Brawl, it's already been
spotted
in a few places in Canada.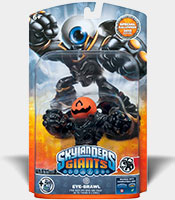 The "Special Halloween 2013 Edition" Eye-Brawl, more commonly referred to as Pumpkin Eye-Brawl thanks to his distinctive orange pumpkin-like eye-ball, is not an in-game variant and will appear exactly the same as a regular Eye-Brawl when playing just like the Glow-in-the-Dark editions of characters like Cynder and Sonic Boom that you might already own. It does however have the same "Special" tag that makes it distinct in the collection screen even if it doesn't look or behave any differently.
A quiet one for
Skylanders: Lost Islands
this week, Eye-Small is more widely available and the month's Alter-Ego gets his Hut.

Eye-Small joins Lost Islands properly, you can now buy him for 300 Gems.

Autumn Stump Smash gets his own Hut for 350 Gems.

A new Wood Stack House for level 39 that can house 3200 Mabu.

And in news for a related game, the previously exclusive to iOS
Skylanders: Battlegrounds
has been
announced
for the LG Smart TV platform and is due out "this holiday season". Here's hoping they remember to finish it off this time.
January

| S | M | T | W | T | F | S |
| --- | --- | --- | --- | --- | --- | --- |
| | | 1 | 2 | 3 | 4 | 5 |
| 6 | 7 | 8 | 9 | 10 | 11 | 12 |
| 13 | 14 | 15 | 16 | 17 | 18 | 19 |
| 20 | 21 | 22 | 23 | 24 | 25 | 26 |
| 27 | 28 | 29 | 30 | 31 | | |

February

| S | M | T | W | T | F | S |
| --- | --- | --- | --- | --- | --- | --- |
| | | | | | 1 | 2 |
| 3 | 4 | 5 | 6 | 7 | 8 | 9 |
| 10 | 11 | 12 | 13 | 14 | 15 | 16 |
| 17 | 18 | 19 | 20 | 21 | 22 | 23 |
| 24 | 25 | 26 | 27 | 28 | | |

March

| S | M | T | W | T | F | S |
| --- | --- | --- | --- | --- | --- | --- |
| | | | | | 1 | 2 |
| 3 | 4 | 5 | 6 | 7 | 8 | 9 |
| 10 | 11 | 12 | 13 | 14 | 15 | 16 |
| 17 | 18 | 19 | 20 | 21 | 22 | 23 |
| 24 | 25 | 26 | 27 | 28 | 29 | 30 |
| 31 | | | | | | |

April

| S | M | T | W | T | F | S |
| --- | --- | --- | --- | --- | --- | --- |
| | 1 | 2 | 3 | 4 | 5 | 6 |
| 7 | 8 | 9 | 10 | 11 | 12 | 13 |
| 14 | 15 | 16 | 17 | 18 | 19 | 20 |
| 21 | 22 | 23 | 24 | 25 | 26 | 27 |
| 28 | 29 | 30 | | | | |

May

| S | M | T | W | T | F | S |
| --- | --- | --- | --- | --- | --- | --- |
| | | | 1 | 2 | 3 | 4 |
| 5 | 6 | 7 | 8 | 9 | 10 | 11 |
| 12 | 13 | 14 | 15 | 16 | 17 | 18 |
| 19 | 20 | 21 | 22 | 23 | 24 | 25 |
| 26 | 27 | 28 | 29 | 30 | 31 | |

June

| S | M | T | W | T | F | S |
| --- | --- | --- | --- | --- | --- | --- |
| | | | | | | 1 |
| 2 | 3 | 4 | 5 | 6 | 7 | 8 |
| 9 | 10 | 11 | 12 | 13 | 14 | 15 |
| 16 | 17 | 18 | 19 | 20 | 21 | 22 |
| 23 | 24 | 25 | 26 | 27 | 28 | 29 |
| 30 | | | | | | |

July

| S | M | T | W | T | F | S |
| --- | --- | --- | --- | --- | --- | --- |
| | 1 | 2 | 3 | 4 | 5 | 6 |
| 7 | 8 | 9 | 10 | 11 | 12 | 13 |
| 14 | 15 | 16 | 17 | 18 | 19 | 20 |
| 21 | 22 | 23 | 24 | 25 | 26 | 27 |
| 28 | 29 | 30 | 31 | | | |

September

| S | M | T | W | T | F | S |
| --- | --- | --- | --- | --- | --- | --- |
| 1 | 2 | 3 | 4 | 5 | 6 | 7 |
| 8 | 9 | 10 | 11 | 12 | 13 | 14 |
| 15 | 16 | 17 | 18 | 19 | 20 | 21 |
| 22 | 23 | 24 | 25 | 26 | 27 | 28 |
| 29 | 30 | | | | | |

October

| S | M | T | W | T | F | S |
| --- | --- | --- | --- | --- | --- | --- |
| | | 1 | 2 | 3 | 4 | 5 |
| 6 | 7 | 8 | 9 | 10 | 11 | 12 |
| 13 | 14 | 15 | 16 | 17 | 18 | 19 |
| 20 | 21 | 22 | 23 | 24 | 25 | 26 |
| 27 | 28 | 29 | 30 | 31 | | |

November
S
M
T
W
T
F
S
1
2
3
4
5
6
7
8
9
10
11
12
13
14
15
16
17
18
19
20
21
22
23
24
25
26
27
28
29
30

December

| S | M | T | W | T | F | S |
| --- | --- | --- | --- | --- | --- | --- |
| 1 | 2 | 3 | 4 | 5 | 6 | 7 |
| 8 | 9 | 10 | 11 | 12 | 13 | 14 |
| 15 | 16 | 17 | 18 | 19 | 20 | 21 |
| 22 | 23 | 24 | 25 | 26 | 27 | 28 |
| 29 | 30 | 31 | | | | |