Category: Crash Team Racing
3:25 PM - Wednesday the 28th of August, 2019 - by dark52
For the past couple of months
Crash Team Racing: Nitro Fueled
has been running online "Grand Prix" events that you could take part in to unlock new characters and customisations, the upcoming one, starting this Friday, is the turn of the
previously announced
Spyro and Friends Grand Prix.
The unlockable characters for this event are Spyro, Hunter, and Gnasty Gnorc. For a closer look at the Spyro themed track itself, called Spyro Circuit, and some other unlockables (like a Reignited style Dark Spyro skin) you can head on over to the
PlayStation Blog
.
5:05 PM - Tuesday the 11th of June, 2019 - by dark52
In today's E3 Nintendo Direct it was very briefly revealed that the
Spyro: Reignited Trilogy
will indeed be releasing on the Nintendo Switch at long last, due on the 3rd of September the game will also be releasing on Steam at the same time.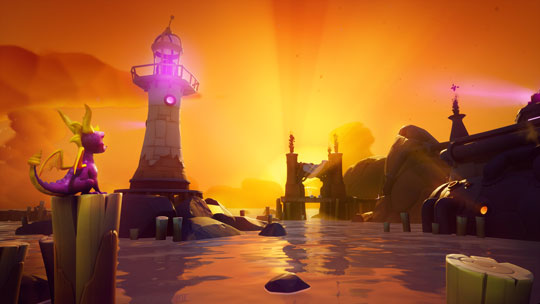 It was also announced today that Spyro will be a playable driver in the upcoming
Crash Team Racing: Nitro-Fueled
. He won't be available at launch but will instead be unlocked in a free, post launch, Grand Prix event.
And in some
Spyro: Enter the Dragonfly
news,
LXShadow
recently discovered a couple of brand new
cheat codes
for the game including one that makes the game really slow!